Sophy Williams (text) and Gavin Scott (illustrator), The ABC of Cuddles, Allen & Unwin, July 2021, 32 pp., RRP $19.99 (hbk), ISBN 9781760526115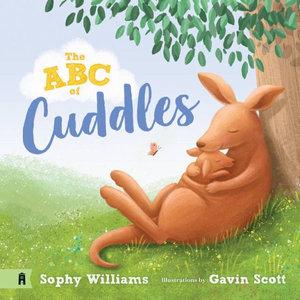 Sophy Williams and Gavin Scott have successfully collaborated on the perfect book to help little ones fall asleep.
Utilising the alphabet as its hook, each page celebrates different ways to hug and cuddle.
A is for airport cuddle, when it's time to go away.
B is for bear hug, when teddy goes astray.
C is for crying cuddle, a scary ghost went boo!
D is for daddy cuddle, when only Dad will do.
The text has a lovely rhythm, and Scott's illustrations of different animals being comforted by a hug are as warm and comforting as a real hug! It's heartening to see Australian animals featured in the illustrations.
As this book's format is hardcover, it would be a welcome addition to a children's library collection and would make a perfect gift for any pre-schooler. I'm sure it would become a firm favourite as part of the bedtime ritual.
Publisher recommends ages: 3-6 years.
Reviewed by Gaby Meares