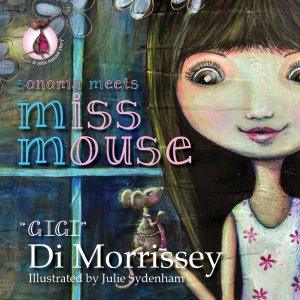 SYDENHAM, Julie (illus.) 'Gigi' Di Morrissey (text) Sonoma Meets Miss Mouse Harbour Publishing House, 2014 unpaged $19.99 ISBN 9871922134400 SCIS 1672605
The art work in this text is both engaging and evocative.  Although there are dark colours, because the story takes place at night, the way the illustrator plays with light and dark and different textures in her mixed media work there is a sense of warmth and caring captured in the night rather than anything frightening.
It is a story about a little girl who befriends a mouse in the darkness, and helps her not to be afraid of the dark.  Sonoma's face is particularly bright and beautiful conveying the gentleness of her personality.  This is the first in a proposed series about these characters.  Suitable for 4-8 years.
reviewed by Sue Clancy