Constanze Spengler (text), Katja Gehrmann (illustrator) and Shelley Tanaka (translator), Seahorses Are Sold Out, Gecko Press, July 2021, 40 pp., RRP $16.99 (pbk), ISBN 9781925820973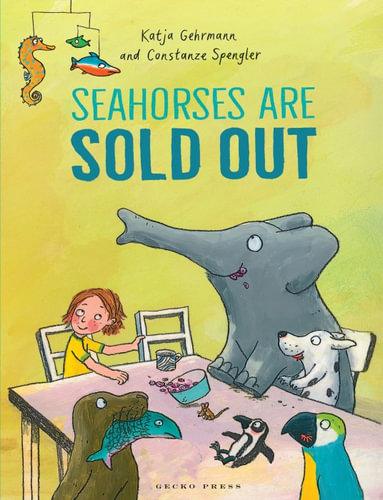 Mika's father works from home and is completely engrossed in his current project. Mika is terribly bored and wishes they could go to the lake or get a pet. The pair come to a compromise; Mika is allowed to get a pet, as long as it is quiet and allows their frazzled father to get on with his work. So young Mika goes to the pet shop, chooses a mouse, and takes it home.
By the next morning, the mouse has disappeared. Mika returns to the pet shop and buys a puppy to find the mouse. But the puppy isn't toilet trained, so Mika buys a seal to live in the bathroom so it can teach the other animals how to use the toilet. But the mouse doesn't know how to swim, so Mika buys a penguin to teach it because the seahorses are sold out (interesting kid logic!). Soon enough, Mika has a million problems, which can only be resolved by buying more and more pets. Their father is so absorbed with his project, that he has no idea that his house is becoming a zoo!
Constanze Spengler's story is a madcap adventure that is equal parts funny and charming. Katia Gerhrmann's accompanying illustrations are delightful and playful. She has used crayons and paint which give the illustrations a retro feel (reminiscent of picture books from the 1950s and 1960s).
Animal lovers will adore this book! While many states are in lockdown, children will also relate to having a parent working from home. This book is ideal for children aged 4 – 7 years and would be an excellent resource in a school or public library.
Reviewed by Clare Mellor