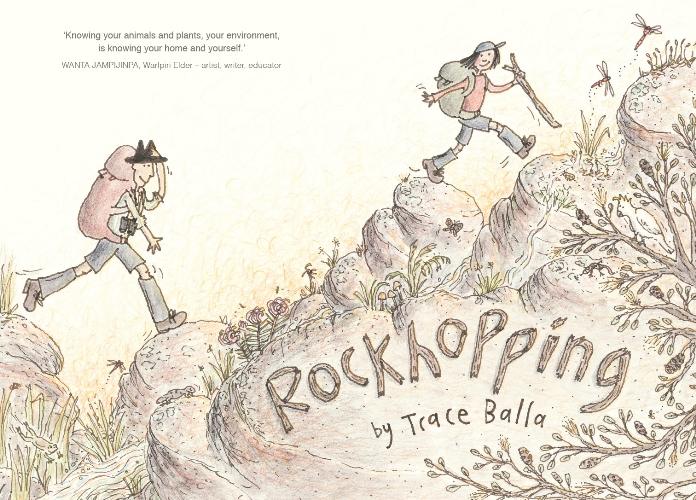 Trace Balla,  Rockhopping,  Allen & Unwin,  April 2016,  80pp.,  $24.99 (hbk),  ISBN 9781760111632
Rockhopping is a sequel to the award winning Rivertime and continues the outdoor adventures of Clancy and his Uncle Egg in mountainous Victoria. It will take readers a couple of hours to follow their hiking week, such is the intricacy of content. Naively illustrated with text created from Balla's handwriting this graphic novel has the authentic feel of a ten year old's project diary. The comic book style with speech bubbles and labels amongst strips of narrative make the packed story and all its factual information easy to follow. The compositions playfully follow our climbers, even asking readers to turn the book around in their hands at times. The only slight confusion for me was a narrow gutter occasionally causing me to read across the double page instead of one side at a time.
Readers will learn a huge amount about their country and its inhabitants from this book, but overarching this is a gentle story of companionship, trust, wander and questioning about life, the universe and everything. There's something magic when a night sky of dark blue pencil scribble can make your hair stand on end.
It left me with an itch to get outside and start walking.  Suitable for: Ages 8+
Teacher's Notes and Downloadable Activities can be found on the Allen & Unwin website.
Reviewed by Liz Anelli