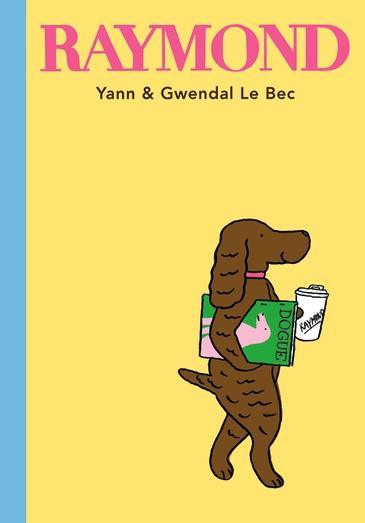 Yann & Gwendal Le Bec, Raymond, Walker Books Australia, 1 May 2017, 32pp., $24.99 (hbk), ISBN: 9781406362428
The hilarious story of Raymond – a dog who wants to try on a human life – reminded me of the books of my childhood from the Dr Seuss I Can Read series. Mostly they were illustrated by P.D. Eastman – think Go Dog Go, The Best Nest and Are You My Mother? – and conjured nuclear families with problem pets. The Le Bec brothers' illustrations echo this gorgeous 60s style. The pictures are off-set by white space and include lots of visual gags to draw in younger readers.
After Raymond, a beloved pet, tries eating up at the table with the rest of the family, he's inspired to embark on a human life. He picks up a copy of Dogue and in the next spread he's having an interview with a doggie editor who wants to know his opinion on cats.
"Well…they are unbelievably silly," said Raymond.

And the job was his.
This light-hearted approach continues throughout the book so that the reader scarcely realises that a parody of modern workaholic life is unfolding. When Raymond gets a hard-hitting job on Dog News, his family tune in every night.
"It was the only time they got to see their Raymond."
Finally, the family convince Raymond to take a mini-break for his birthday. Hilariously, he's worrying the whole way there about the phone calls, the emails, the meetings… Suffice to say, the holiday brings back Raymond's doggie mojo and normality is restored by the end of the story.
This book could generate some great family discussions about the need to spend time together and the importance of not allowing work to dominate. Highly recommended for children in the junior primary years. 
Reviewed by Heather Gallagher