Aaron Blabey, Pig the Tourist, Scholastic Press, July 2019, 24 pp., $17.99 (hbk), ISBN 9781742994123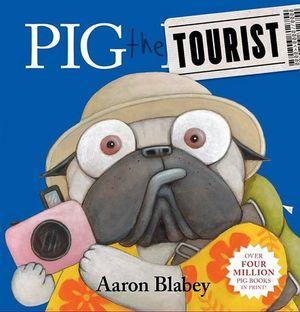 Pig is back, and he is as vile and rude as ever. This time, it's Pig the Tourist. You just can't take him anywhere.
Pig the Pug has become a much-loved character, cleverly created by Aaron Blabey into a successful multi-series. This alone is enough to ensure a place in any collection for this new addition in the mad escapades of this undignified dog. Pig the Tourist follows the disastrous pug as he bumbles across the globe, upsetting locals and ignoring customs along the way. This can't end well, and it looks like this disastrous adventure is about to bring Pig's out of control spree to an end.
This is a winner for preschoolers, though the subtle humour and written gags are more fun for early readers. Bring out the whole Pig Pug collection to extend the learning and children will see how that rascally pug just cannot seem to behave. From mishaps at the hotdog stand, to chaos at the Carnivale, devastation at the Dragon Dance and those pesky piranha's, Pig the Pug is on a roll. It just goes from bad to worse, until he decides to ignore the warning signs at the swimming hole. Oh no…
Colourful and bold artwork accompany the words; easy to read and full of rhyme. This could form a discussion on travel, of course, and how to travel with more respect than, well, than Pig! What did Pig do wrong there? What should he have done here?
Pig the Tourist will be a much requested story time favourite, if my 5 year-old is anyone to go by.
Reviewed by Belinda Raposo