Edwina Wyatt (text) and Lucia Masciullo (illustrator), Olive, Hardie Grant Children's Publishers, February 2021, 32 pp., RRP $24.99 (hbk), ISBN 9781760504083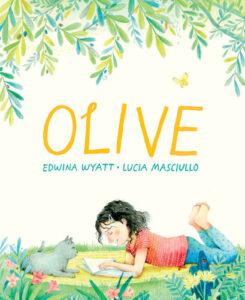 One day Lilah comes home from school to find that the unthinkable has happened: Olive, her beloved cat, has died. An olive tree is planted in remembrance, but Lilah is too grief-stricken to appreciate the gesture.
Seasons pass and the olive tree grows but Lilah still shuns its existence, lost in a confusing matrix of emotion. Through all Lilah's frustrations and sorrow the tree remains, steadfast and enduring.
Then one day, Lilah chases a strange cat up into the boughs of the olive tree where she is suddenly and unexpectedly reminded of her dear pet. Finally, Lilah can look back fondly and open her heart once more.
It was Olive's tree.
With Silvery leaves the colour of her paws.
Emerald fruit the shade of her eyes.
And creamy flowers, soft and small.
They smelled sweet and warm and spicy.
 Simply told, this touching picture book captures the complexities of grief especially for a young child experiencing huge feelings for the first time. The soft, colourful illustrations convey the evolving emotions beautifully, from Lilah's muted monochromatic memories to her vibrant all-consuming grief and the eventual warmth of love and acceptance.
This is a fantastic title to share with younger children, particularly those who have experienced the loss of a beloved pet. A hopeful and endearing tale that could help young people understand those big emotions and start to heal.
 Reviewed by Lisa Hoad