Stephanie Blake, Nits!, Gecko Press, May 2019, 32 pp,. $16.99 (pbk), ISBN 9781776572243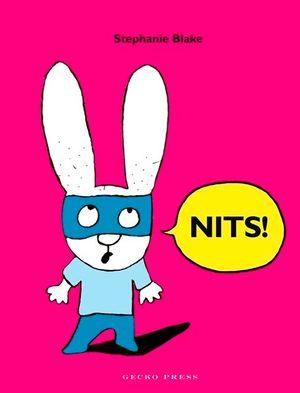 Simon the rabbit loves Lou, who is in his class at school.
But Lou loves Mamadou.
How will Simon prove his love to Lou?
With an unwelcome visit by some pesky nits, Lou discovers who her real friends are, and just how super Simon really is.
The central themes of friendship, acceptance and the sweetest of young love, is adorably captured in Nits!
As a French to English translation Nits! loses none of its charm, and along with a vibrant use of colour, makes for an eye-catching and effortless story for young children, in any language. A striking resemblance to Miffy the rabbit comes through in the physical characterisation, making this a familiar and appealing story for toddlers. Simon is clearly the hero with his blue crusader mask, and Lou the object of his affection with her yellow love heart ribbons on her ears.
Stephanie Blake's use of anthropomorphism is used to great effect in this story to create memorable and charming characters, and offers a softer life and love lesson for young children. Poor Simon's heartbreak, and Lou's embarrassment is made bearable with the choice of animal characterisation, prompting a quiet empathy towards the two lead characters.
Early learning educators and teachers are presented with ample opportunity to cover topics such as compassion, kindness and acceptance, while parents can have a chuckle at the lighter side of dealing with nits! And who wouldn't want to make some awesome superhero masks?
A cute and colourful story with a universal message of acceptance and kindness makes for a winning combination.
Reviewed by Shelley Stephens