Emma Cary (text) and Emma Stuart (illustrations), Midnight Magpies, Brolly Books, April 2021, 24 pp., RRP $36.75 (hbk), ISBN 9781922418081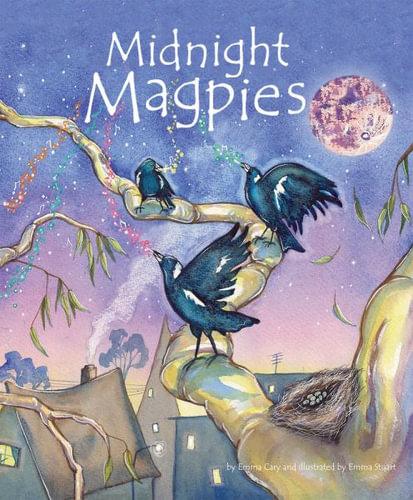 The beautiful and magical atmosphere created by singing magpies is celebrated in this lovely children's book created by two talented Emmas.
Emma Cary narrates, in a sweet rhyming verse, a night in a suburban neighbourhood that is filled with the sounds of magpie song. The rhyme has a gentle, soothing pace perfect for a calming bedtime story for children with the words formatted to roll gently across the page, reminiscent of the melodic sounds of carolling magpies. There are a few technical words included in the verse, which are further explained in the useful 'Notes for Parents and Teachers' section at the back of the book.
Alongside Emma Cary's rhythmic words, accomplished illustrator Emma Stuart has created a dream-like, magical mood with her beautifully rendered watercolours. There are wonderful textures and shapes of 'real-life' scenes in purple undertones that bring a mystical delight to the pages and are sure to spark the imaginations of readers young and old.
A simple story concept that has been skilfully crafted to create an enchanting but also informative book that appreciates the unique qualities of magpies. I believe this book has a wide range of appeal and would be suitable to be read to or for readers 3-12 years.
Reviewed by Julie Bertola