Mark Greenwood has collaborated once more with Terry Denton, and has produced Boomerang and Bat. Here he gives us background to the development of the story, and what it means to both artist and writer.
After our collaboration on Jandamarra, I hoped another little known story might tempt Terry.
Boomerang and Bat began with an old photograph of a team of Indigenous cricketers. In 1868, they set off on a secret journey across the world to take on England's best. Despite being denied permission to compete overseas (the Board for the Protection of Aborigines objected to them leaving the colony), the team played forty-seven matches on foreign fields and thrilled sporting critics and spectators with their exceptional talent.
Johnny Mullagh was the star player. He completed 71 forceful innings, scoring 1698 runs and is credited as a bowler with 245 wickets.
To build the foundations of the book, Terry and I travelled to Harrow, Edenhope and Lake Wallace in the Western districts of Victoria, where the story of the real First Eleven began. The West Wimmera cricket trail was our starting point. At the Harrow Discovery Centre, we found the replica coloured caps that once bore the emblem of a silver boomerang and a bat. At Johnny Mullagh's grave, ideas were discussed. At the waterhole, where Unaarrimin spent his last days, the book's structure was hammered out.
What we found on our travels was more than a cricket story. The original heroes in Australia's sporting history sought neither fame nor glory. They received no reward for their success. Their story was fascinating, uplifting and tragic – and they deserve the nation's recognition.
When our research trip was over, our roles became separate. The text was written and rewritten, revised and reworked. Terry's initial rough sketches added clarity to the storytelling. As the art developed, I let go of phrases and words until the text and art integrated, and the layers of meaning were captured.
In their own country, the real First Eleven never received the respect they deserved. In England they were celebrities. Children scrambled for a glimpse as the famous cricketers steamed by. At Lords, Johnny Mullagh attacked fast-rising balls with glances, cuts and cover drives. Earls and viscounts gave him a standing ovation.
But in Australia there was no triumphant welcome after the long voyage home. One by one, the cricketers quietly returned to their stations.
Today, many Australians are unaware of their accomplishments, yet our nation holds sporting achievement, particularly on the world stage, in such high esteem.
The book is dedicated to Bripumyarrimin (King Cole), the warrior who didn't come home. It questions a gap in our history. For Terry and I, Boomerang and Bat is not a cricket book, it's an act of recognition.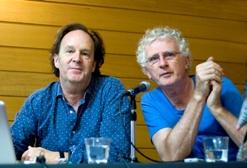 Thank you for these insights, Mark.