Jane Smith's inspiration behind a world of historical female trailblazers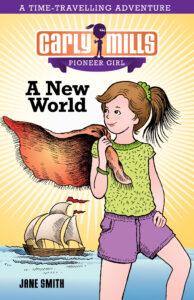 Carly Mills was actually a minor character in two of my Tommy Bell, Bushranger Boy books. I didn't have her series in mind when I wrote her character then, but I liked her – she's a straightforward, no-nonsense, honest, brave girl – and it soon became clear to me that she deserved a series of her own. I decided to make it a companion series to the 'Tommy Bell' books, following a similar format: a contemporary girl goes back in time to have adventures with women from the past. Carly's the sort of girl who could make the world a better place, and so the idea of having her meet female trailblazers seemed a logical next step. 
I've always loved historical fiction. I didn't enjoy history as a subject at school; it seemed just like an endless list of names and dates to be learned by rote. And yet I always loved visiting historical places and reading stories set in the past. It's such a shame that history is ever made dull for kids, because it's so easy to make it fascinating! If you enjoy books, movies or TV, you enjoy stories – and that's what history is: stories. They're just stories that happened in the past. I wanted to bring history to life for kids. I thought that by making the protagonist a contemporary girl, kids would relate to her. They would see the past through her eyes. They'd see the astonishing differences, but they'd also see that some things never change.
Before I started the series, I'd been doing a bit of research into Dr Lilian Cooper, Queensland's first female doctor. When I started the Carly Mills series, I knew I had to include her. Lilian Cooper came to Brisbane – my home town – from England in 1891, responding to a call from Brisbane women who wanted a female doctor. The more I read about her, the more I respected and admired her. Women had so much to contend with in those days! Dr Cooper was clever, skilled and, above all, highly principled – and yet it took a long time for people to accept that a woman could be a doctor. She had trained in England, but in those days, women couldn't even sit the exams to become qualified in medicine in England; she had to do her exams in Scotland. Then she became not only a doctor, but a surgeon, which was quite an achievement. It seems she had quite a gruff, awkward manner, but she was devoted to her patients and particularly to the health of women and children. She was also quite vocal about the negative effects on the health of foolish fashion items like corsets!
Dr Cooper is only one of the remarkable women I've researched for this series. I started off with Australian women but then decided to cast my net wider and include some from overseas to add in some variety. I wanted to select women who represented a good cross-section of society: social reformers, scientists, performers and writers. Each one I've researched has impressed me deeply; it's impossible to name a 'favourite'. Caroline Chisholm was an utterly selfless advocate for the nineteenth-century equivalent of the people we might call 'asylum seekers' today; Nellie Melba put Australia on the cultural map and paved the way for women's involvement in the arts; Florence Nightingale revolutionised thinking on community health; Amelia Earhart was brilliant at everything she attempted … the list goes on.
Jane Smith is an award-winning author, who has children's books shortlisted by the ABIA and longlisted by CBCA. Her Australian Bushranger non-fiction series, and the contemporary and original Tommy Bell Bushranger Boy fiction series, have delighted young readers, parents and educators. Jane is a talented author, librarian, editor and historical researcher with a passion for bringing history to young readers in an easily accessible way.
More information about Jane and her books can be found at her website: https://www.janesmithauthor.com/, and the dedicated Carly Mills website:  https://carlymillspioneergirl.weebly.com/ 
Carly Mills Pioneer Girl: A New World is published by Big Sky Publishing, May 2020. 
Organised by Books On Tour PR & Marketing
www.booksontourpr.wordpress.com
www.facebook.com/booksontouraus
www.twitter.com/booksontour_aus  
Read Belinda Raposo's review of Carly Mills Pioneer Girl: A New World here