Mike Dumbleton (text) and Peter Bath (illustrator), Mary Had a Monstersaur, Larrikin House, August 2021, 32 pp., RRP $24.99 (hbk), ISBN 9781922503329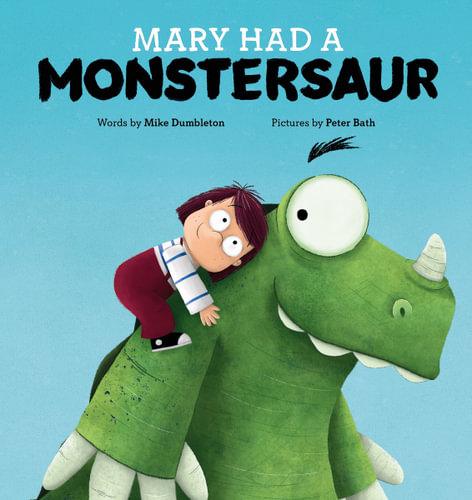 Mary has a special pet, and it's not a dog or a cat!
It's a Monstersaur called Rex.
Rex is the dinosaur of the hour, as he gains popularity at Mary's school and online. He even gets a million likes!
But is there more to Rex than meets the eye?
In Mary Had a Monstersaur, readers join in a zany escapade through the neighbourhood. The story beautifully depicts the devoted friendship between Mary and Rex. They are inseparable and while aware of each other's differences, decide to celebrate their unique friendship.
Peter Bath's illustrations catch the eye from beginning to end, and perfectly portrays the enormity of Mary's imagination.
Mike Dumbleton has cleverly joined the phenomenon that is 'dinosaurus' monster stories, a theme which continues to grow in popularity in the mash-up picture book genre. Mike's rhyming text is humorous and generous, carrying the story to its surprising end.
If the picture book fell short for me, it was on text accessibility. While the use of alternating fonts can be necessary for effect, the continuously changing text size throughout was a little jarring on the eye as a reader.
Nevertheless, Mary Had a Monstersaur is an entertaining read, one that will be popular with young dinosaur lovers for ages to come.
Teachers and librarians can explore themes such as friendship, resilience, and dinosaurs, and access plenty of resources that cover the key curriculum areas for ages 3-8 in English, Arts, Science, Technologies and Social and Emotional Learning (SEL).
Reviewed by Shelley Stephens