Matt Cosgrove, Macca's Makeover, Scholastic Australia, September 2019, 24 pp., RRP $17.99 (hbk), ISBN 978760 669195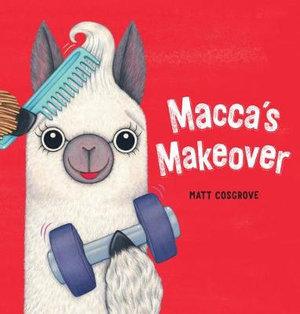 In this the fifth instalment of Macca stories, the lovable alpaca wants what most people secretly want – to be cool! First, he tries new hairstyles with the help of his best friend, Al. A delightful spread shows Macca with a series of different dos fluffed and puffed, dyed and tied, shaved and waved, curled and twirled. But the pair end up in a tangle.
Next Macca tries accessorising and then working out. Poor Macca winds up in tears: 'I feel like a fool. I'll never be cool!' Unsurprisingly, his friends rush in to reassure him that he's cool just being himself. A hardy perennial message, but one that perhaps can't be said enough in a time where youth mental illnesses are prevalent.
Macca's Makeover is a fun and colourful addition to the Macca collection and the playful rhyming text is perfect for reading aloud to pre-schoolers and early primary children.
Reviewed by Heather Gallagher