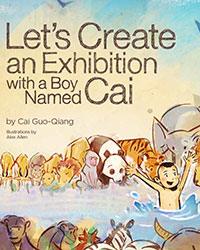 GUO-QIANG, Cai (text) Alex Allen (illus.) Let's Create an Exhibition with a Boy Named Cai Qld Art Gallery/Gallery of Modern Art, 2013 unpaged $19.95 pbk ISBN 9781921503689
Cai is a young Chinese boy who loves making art.  He travels the world; meeting children who help him produce extraordinary artworks.  Together with their friends from beyond… (yes, there are aliens!) they create an exhibition.
This unusual semi-autobiographical story is inspired by the Chinese fairytale Peach Blossom Spring and written by an international artist.  It is a blend of fiction and fact.  It begins with an introduction to the artist.  Cai's adventures are based on ten of the artist's famous works.  Their profiles can be viewed at the back of the book.  There is also a world map marked with the places visited and fun facts.
Let's Create an Exhibition with a Boy Named Cai is published in conjunction with an interactive exhibition for children organised by and held at the Gallery of Modern Art, Brisbane until May 11, 2014.  For art lovers of all ages.  Sharon Seymour