Jacinta Froud (text) and Gabriella Petruso (illustrations), Jingle Belly, Larrikin House, November 2021, 32pp., RRP $19.95 (hbk), ISBN 9781922503503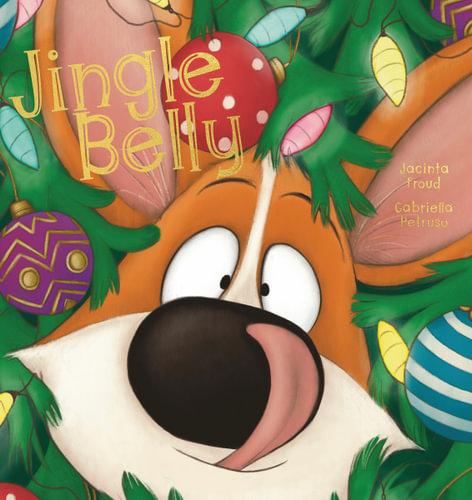 Like many dogs, lovable Eddie is always getting up to mischief!
Escaping from the backyard and chasing balls for fun.
Purebred Corgi motto… 'Consider that job done!
Eddie's naughtiest habit is chewing whatever he can get a hold of – shoes, washing, toys and one Christmas Eve, the jingly angel from the top of the tree. Eddie races off with jingles in his belly, causing more trouble and picking up decorations as he goes. Eventually, Eddie's family get the angel back – in the most unpleasant way!
Kids aged 3-8 years will love the fun rhymes and are likely to be equally amused and grossed out by Eddie's antics. Jingle Belly's focus is entertainment, with no heavy moral or analysis of emotions, although it could be used to start a conversation about pet care. Fans of Aaron Blabey's mega-successful Pig the Pug series will enjoy the similar cheeky humour of Jacinta Froud's debut picture book.
The illustrations by Gabriella Petruso are bold and bright, with cute characters. The story is nicely laid out with lots of white to keep the focus on the characters. The cover is appealing and includes some gold foil touches and glossy elements, making it a nice gift idea for the upcoming Christmas season.
Reviewed by Laura Holloway