Stef Gemmill (text) and Tanja Stephani (illustrator), In My Dreams, New Frontier Publishing, April 2020, 32 pp., RRP $24.99 (hbk), ISBN 9781925594928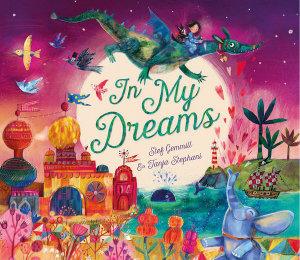 We all occasionally slip into another world where anything's possible, whether it's a daytime reverie or during a night-time slumber. In this new title from Steff Gemmill, a young boy's dreams take him on a magical journey full of fun, frivolity and adventure. Who wouldn't love to 'lick the stripes off rainbows,' 'dive deep down to the ocean floor and meet creatures of the sea,' or make mischief with monkeys'? But there's danger too. Dark shadows lurk, blinked away by the dreamer, bringing him to a warm light that sings him home. Tanja Stephani's colourful illustrations burst from the page, tantalising the senses and adding rich layers to Gemmill's poetic text. Just as dreams offer an escape from the pressures of the real world, so too does this enchanting story about the endless possibilities of imagination.
The perfect choice when tucking in little ones. What would your dreamland be filled with?
Reviewed by Maura Pierlot