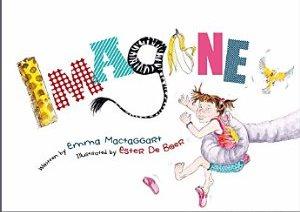 Emma MacTaggart (text),  Ester De Boer (illus.),  Imagine, Boogie Books,  20 January 2015,  28 pp.,  $24.95 (hbk),  ISBN 9781922224040
This is a charming picture book that prompts its readers to imagine the animals at the zoo, but to go even further and re-imagine those animals in the craziest of ways. So the giraffe becomes a chair, the chimp becomes a backpack, the meerkat is a cereal bowl and the cheetah is a bike. Madness ensues and the colourful illustrations paint a wonderfully detailed picture of each imagined state. The text addresses the reader directly and uses rhyme to create a singsong call to the reader on each page. The text style is colourful and mixed font too, complementing the double page spreads of illustrations.
This picture book would be best for older readers (upper pre school or kindergarten) to get the best effect in asking the reader to use their imagination in a sophisticated fashion, and to allow an appreciation of the humour embedded in the concept and the illustrations.
Reviewed by Angie Holst