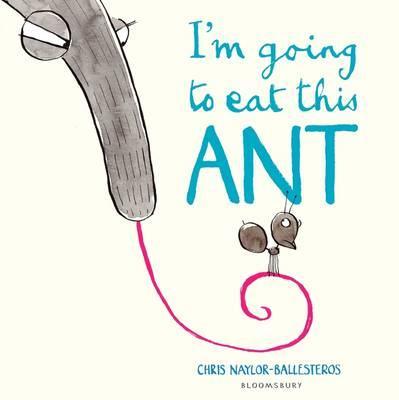 Chris Naylor-Ballesteros, I'm Going to Eat this Ant, Bloomsbury, 6 April 2017, 32 pp., $14.99 (pbk), ISBN: 9781408869901
In this amusing picture book, a jaded looking anteater with a long, thin ribbon-like red tongue, bemoans the lack of variety in his diet.  He imagines eating an ant combined with a variety of (human) delicacies.  He could eat an ant in a sandwich or smothered in mint sauce  – and the list goes on.
From the first page, the tone of a nonsense poem is evoked with repetition of words and rhyming adjectives – wriggling, tickling, stinging, fighting, biting ants.  On each subsequent page there is a short, alliterated phrase describing the anteater's nasty plans for preparing his ant dish – ….sliced like salami; … or splattered with a spatula.  The alliterated phrases are accompanied by cartoon style illustrations of a startled looking ant being combined with other ingredients and chopped or fried or squished or speared or smoked and so on.   Words are carefully chosen to create a punchy rhythm and, combined with illustrations, conjure culinary images and allude to the suffering of the ant.
In the end, while the anteater is distracted by his culinary fantasies, the ants hatch a clever plan to get the better of him.  With his tongue literally tied up, this leaves the anteater lisping forlornly, I'm theriouthly conthidering thomething elth for thupper.
I also love the final endpapers depicting the ants carrying the imagined culinary delights and the cooking utensils.
This book will amuse both adults and children, although the inferences and allusions will go over the heads of little ones.
Reviewed by Barbara Swartz