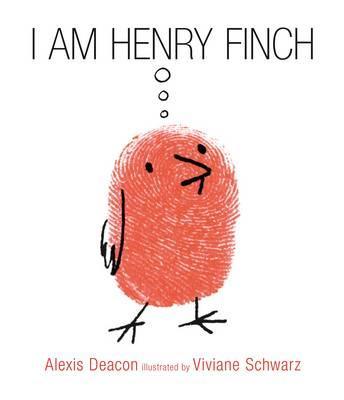 Alexis Deacon (text), Viviane Schwarz (illustrations), I Am Henry Finch, Walker Books, 1 January 2015, $24.95 (hbk),  40pp., ISBN 9781406357134
Who is Henry Finch? He is the epitome of greatness. If you ever want to read a book about being successful, confident and influential, then I Am Henry Finch is the one.
The finches spend their lives on repeat; everyday making a racket bidding each other good morning, afternoon, evening and good night, until the Beast comes and threatens their safety. But one night Henry wakes up to discover that he has a thought. The power of his mind allows Henry to dream big…even from deep inside the Beast. Fraught with his own insecurities, Henry overcomes this negativity to become a most empowering and inspiring little bird.
Author Alexis Deacon and illustrator Viviane Schwarz masterfully combine their talents in this enlightening tale. Amazingly impactful pictures of plain backgrounds, black and white ink sketches and red thumbprint finches perfectly suit the dramatic and bold nature of the story. There is a delightful sense of humour and simplicity in both the text and drawings that remind us that life doesn't need to be complicated. Aim high, think positive thoughts and you can achieve anything. The execution of a mixture of narration, dialogue, speech and thought bubbles brilliantly reflect the wit and acumen of the story.
I Am Henry Finch is a gorgeous book of resilience, creativity and conviction, yielding an endearing, strong character with no inhibitions. Recommended for primary school children who won't settle for anything less than a great read.  Classroom Ideas can be found on the Walker Books website.
reviewed by Romi Sharp