Yohann Devezy (text) and Manuela Adreani (illustrator), Hugo, the Boy with the Curious Mark, Red Paper Kite, May 2019, 40 pp., RRP $26.99 (hbk), ISBN 9780648450207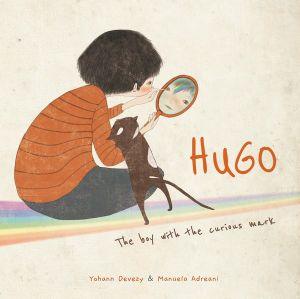 Readers looking for a contemporary edge will find great satisfaction in this cool and quirky tale about a boy with a difference. We've all heard of a fictional boy with a curious mark on his forehead, who long struggled with self-identity and acceptance. Hugo is no different, and his emotional and adventurous rollercoaster journey helps him to discover something quite amazing.
Author Yohann Devezy strongly advocates for social justice, diversity and inclusion through his writing. Hugo is his debut book, and wow, what a remarkable impression he has made! With equally stunning, modern and unique illustrations by graphic artist, Manuela Adreani, we are blessed with a book that offers reflection, hope, opportunity and richness that will appeal to all walks of life.
Hugo begins on his quest to find someone, somewhere, with a rainbow mark just like his. He is hurt and isolated by the constant sniggering and remarks about his special feature that no one else seems to possess. So, through busy crowds full of colour, shapes and sizes, Hugo ventures in search of a rainbow, but soon he is only left feeling grey with despair, disappointment and defeat. That is, until a new girl arrives at school – someone just like him.
In between the yearning, the highs and the lows, there is humour, and whimsy, and even a dash of excitement. The story ends on a beautiful high, full of love, brightness and colour. And there's even an invitation by the illustrator to colour a few black and white pages from the book as a gesture to 'make it your own'.
Hugo certainly holds an important message of tolerance, friendship and embrace for our current generation of children growing up in a diverse society. This book also sensitively reflects deep feelings that individuals may be burdened with and offers a sanction of peace, humility and understanding to truly brighten the spirits. Outstanding!
Reviewed by Romi Sharp