The Children's Book Council of Australia (Tasmanian Branch) Inc. conferred their latest Life Membership on Hugo McCann, on Sunday, 26 October 2014 at a convivial lunch event at a popular hotel in Battery Point.  Hugo accepted the honour with this speech…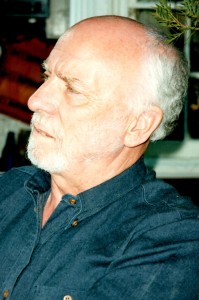 Thank you for this kindness. Of course I am unaccustomed to life membership ceremonies or even life membership so I have been seeking a way into a more fulsome response.
Some people may want to say life membership in any organisation is given for work that was memorable for some worthy reason. I fear that 'work' does not apply to my contribution begun over thirty years ago to the CBCA or indeed to my study of literature for the young.
Everything to do with work for the young was a delight for me from that sound, when I was about eight or nine, of Blind Pew's stick on the west country road as part of the opening of Stevenson's Treasure Island as the blind man brings the black spot, the call for a pirate's meeting, to Billy Bones who quickly dies out of the story and I was with Jim and Long John, Squire Trelawney and Dr Livesey on the sailing ship 'Hispaniola'. Their names, their characters and their fictional lives live with me still.
Or maybe it was also the loud words of Jenny Clouston 'Blood built it, blood stopped the building of it, blood will bring it down' cursing the House of Shaws in Kidnapped (a minor character who stayed in my memory)– as you
might have gathered I had learnt to look for the writer's name as a guide to choice. I was becoming a discerning reader and found two characters, David Balfour and Alan Breck Stewart(an actual person), whose statues now stand
at Corstorphine in their native Edinburgh fact and fiction together and indelibly marked in my memory after repeated childhood readings and imaginings. In many ways they are more real for me, and many, many others,
than the Germans who then ruled the United Kingdom.
These memories are of works that clearly belong to big 'L' literature. But from that memory flood in characters from the Dundee comics, Lord Snooty and his gang, Desperate Dan and the stories from Wizard, the Rover and
Adventure. I was not restricted to the stories and illustrations that guardians of the great tradition supported. I just liked stories with engaging characters and satisfying outcomes.
As a young teacher the magical power of the right story read to a class that had not yet developed the stamina to read independently at that level was dinned into me repeatedly when I found the right story. I recall the looks on
their faces as the magic of a suitable story, of the words, took effect, they were alert and really present and we could talk about the story, characters and outcome.
I may be here because of the way I enjoyed the literature, maybe I ought to say 'ways' that I wanted to share it with others. You know those engagements with stories that take one out of the now to a more profound and replayable present –the story's now‑ the time of the story that makes our living vivid and unforgettable. A living which left one with a sense of profound loss when one ceased to be trudging through the heather across the Scottish highlands with a man in French officers' uniform or sailing in the Caribbean with pirates seeking treasure under the sails of the Hispaniola or walking through the power of magical realism in the Rocks in Sydney with Abigail and Beatie Bow in the nineteenth century. Both time and distance were no barriers to the life of the imagination and language flourished in such settings.
Words were not the only means of giving another layer to living. From my childhood I cannot imagine Lewis Carroll's Alice in Wonderland without Sir John Tenniel's depictions – his Mad Hatter's tea party, playing croquet using live flamingos, the grin of the Cheshire cat. Later I couldn't quite overcome a sense of magic when I encountered Pat Hutchins' Rosie. I read Rosie as finding a path that impeded the stalking of the fox so that Rosie returned safely home. I might add that I had 'students' who held that she was depicted as a stupid target of a patriarchal representative, the fox. For me Pat Hutchins' text and the pictures told a complementary story and her story retains its life because of the interplay between words and pictures.
Later I couldn't escape the power of Jenny Wagner's Rose's relations with John Brown and the black cat in Ron Brooks depictions. It is a story to which one returns and the story changes as one grows older and finds the emotional lines of tension ever more complex.
From my delight in young readers' responses to literature I found a way of constructing part of a career from reading, sharing and talking about other people's writing and finding compelling stories to share.
I found the CBCA an organisation that took and shared delight in both writers and young readers. It took the magic of story and language very seriously contributing to the rich heritage of literature, the magic pudding of story that
young Australians can enjoy. CBCA provided, encouraged and sustained an excitement about stories shareable with the young. And it still does every year. It was easy to volunteer to share in the efforts being made by the
Council.
The conclusion of my thanks for life membership is a cry of gratitude to the long line of those who have created and maintained the CBCA as a cultural treasure.
Note: The full title of the book we know as Kidnapped. [Alan Breck was an actual person.
Kidnapped: Being Memoirs of the Adventures of David Balfour in the Year 1751: How he was Kidnapped and Cast away; his Sufferings in a Desert Isle; his Journey in the Wild Highlands; his acquaintance with Alan Breck Stewart and other notorious Highland Jacobites; with all that he Suffered at the hands of his Uncle, Ebenezer Balfour of Shaws, falsely so-called: Written by Himself and now set forth by Robert Louis Stevenson.
Jean-Paul Sartre wrote, "… a man is always a teller of tales, he lives surrounded by his stories and the stories of others, he sees everything that happens to him through them; and he tries to live his life as if he were telling a story." La Nausée 1937