Robert Moore (text) and Mandy Foot (illustrator), Esmeralda's Nest, MidnightSun Publishing, July 2020, 32 pp., RRP $29.99 (hbk), ISBN 9781925227666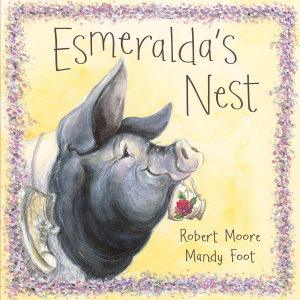 This farmyard story for children 4 to 8 is about Esmeralda the pig, who mysteriously waddles down the hill each day with a new found object. She is clearly on a mission, but what is she up to? Readers will enjoy finding out in the end if they don't predict it from the title.
This clever picture book explores a number of topics: days of the week, weather, ways that animals nest, the kinds of jobs that need to be done around the farm and names for different kinds of black and white animals.
Sparing text tells Esmeralda's story in an engaging way that keeps the pages turning.
Endearing illustrations reveal Esmeralda's story and more, including a man and children working and relaxing around the farm, and other animals nesting in their own particular ways.
Fun endpapers add even more to the story by adopting the role traditionally held by back matter. These Farm Notes show delightful child-like drawings and handwriting on ruled lines, as though from a child's notebook. The notes expand on elements shown in the illustrations, such as showing the tool used to rewire farm fences. They also define a crucial word from the text that's likely to be unfamiliar to many readers. So, children can integrate the information in the illustrations and different text types to put the complete story together, like joining puzzle pieces to form a jigsaw.
This entertaining book offers plenty of scope to learn about and discuss animals and farms. Repeat readings will reward curious eyes – there is simply so much to discover!
Recommended reading.
Reviewed by Julie Murphy