Maggie Hutchings (text) and Evie Barrow (illustrator), Enough Love?, Affirm Press, June 2021, 32 pp., RRP $24.99 (hbk), ISBN 9781922400833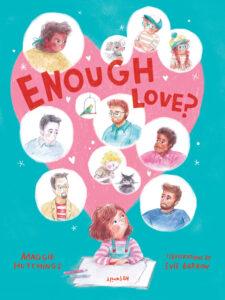 Enough Love? is a picture book about a child's blended family. Each time a significant adult in the child's life re-partners, there are initial difficulties to adapt, then later appreciation for the benefits of gaining additional family members.
And so, the story is an ode to seeing the positives in blended families. It is also a subtle endorsement of diversity, depicting same sex parent families, some non-Anglo names and a range of skin colours and diverse facial features.
This book is a CBCA Picture Book of the Year Notable for 2022, and for good reason. It has so much going for it. I love the book's warm message that love and a sense of belonging are central to a caring family unit, no matter its actual structure. I also love how the text succinctly and subtly conveys complex ideas, in the format of a playful and humorous cumulative story, with a repeated refrain that expands each time new family members are added– "one mum, two dads, two homes, one little sister and a bird" and so on. This repeated structure is also great for supporting text understanding and beginner reading confidence.
Barrow's lovely, realistic colour pencil illustrations add to the warm, caring, gentle energy of the story. They depict the family members engaging with each other in a range of typical domestic and outdoor settings. Their facial expressions and body postures convey their feelings and relationships, adding to the story meaning.
I highly recommend this picture book story for 4-7 year olds, especially as a representation of a blended family that reflects many children's experience.
Reviewed by Barbara Swartz