Giles Andreae (text) and Guy Parker-Rees (illustrator), Elephant Me, Hachette Children's Books, May 2020, 32 pp., RRP $24.99 (hbk) ISBN 9781408356524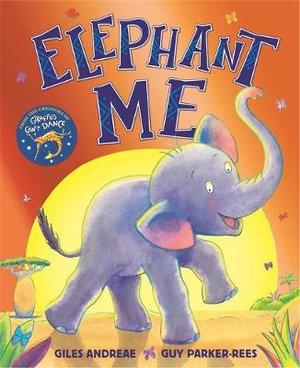 Elephant Me is the empowering story of little elephant Num-Num from the bestselling creators of Giraffes Can't Dance. With many top-selling, award winning picture books including Rumble in the Jungle, Commotion in the Ocean and I Love My Mummy, author Giles Andreae hits the nail on the head once again with this jubilant rhyming picture book. 
One by one, the young elephants compete in the Elephant Games to impress King Elephant Mighty and earn their elephant names. Nina is the strongest, so she becomes Elephant Strong. Norcus is the loudest, so he becomes Elephant Noisy but little Num-Num fears that he will never discover his own special talent.
With faultless rhyme and an uplifting message about being true to yourself, this title is a real joy to read aloud to children from about 3 years.
Who cares about all these ridiculous names?
No, what's more important by far,
Is just to be true to ourselves every day,
And content with…
WHOEVER WE ARE.
Guy Parker-Rees' exuberant double spread illustrations bring the vibrant jungle and its tenderly drawn elephants to life as his technicolor subjects glimmer under the sinking jungle sun.
Sure to be a classic in its own right, this picture book will be universally popular and is a wonderful way to affirm self-worth, celebrate friendship, and promote individuality.
Reviewed by Lisa Mercer