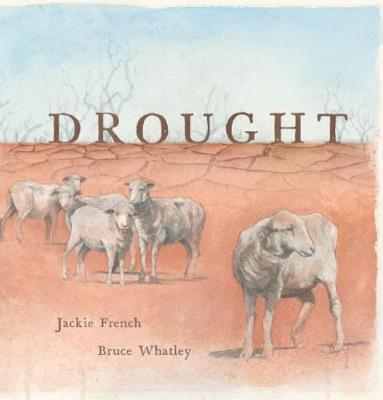 Jackie French (text), Bruce Whatley, Drought, Scholastic Australia, 1 April 2018, 32pp.,  $24.99 (hbk),  ISBN: 9781743817599
From the talented creators of Diary of a Wombat comes Drought — a powerful story which portrays both the environmental disaster of drought and its emotional impact. As the author notes at the end of the book, it was inspired by the lived experience of some students she taught in a workshop as well as her own experience of drought as a farmer.
The book is really an illustrated poem. When I read this to my five year old, she was captivated by the rich, expressive language. Such carefully chosen words to paint the devastation but also positive moments during a drought. As trucks bring supplies sent from around the country, and the rain finally arrives, there is a sense of relief sparked in the reader which softens the story and conveys a message of hope.
The beautiful pencil and watercolour illustrations are also powerful and emotive. There is a picture of starving animals and one of dead animals which might be confronting for some children, but I feel they are important within the context of the book as it aids in understanding the full impact of the disaster.
Recommended for children 4 years and older. It would be a great book for use in primary school classrooms.
Reviewed by Rebecca Blakeney