Kat Patrick (text), and Lauren Farrell (illustrator), Doodle Cat  Wears a Cape, Scribe May 2019, 32 pp., RRP $24.99 (hbk), ISBN 9781925713961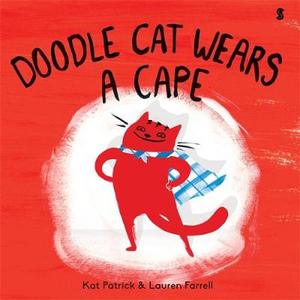 Go into your kitchen. Get your best tea-towel out. Tie it around your neck. You too can be a superhero with superpowers! Doodle Cat is back in this third instalment, wearing a cape and showing what a powerful and high-spirited superhero cat can do. Which is? Cheer up his friend Pangolin, of course!
Patrick has continued her success with Doodle Cat in this book, creating a hilarious tale of friendship and imagination. It reminds me of the Mo Willem's Elephant and Piggie, especially My Friend is Sad, in both plot and joyful examination of friendship. Both authors understand something fundamental about children, which is that they feel big feelings and it is important to reflect these in books! The message of strength and tenderness that Patrick is sending with this story is so important.
The energetic illustrations provide humour and movement – Doodle Cat and Pangolin are bright and bold characters with expressive cartoony faces. Farrell has made thoughtful choices about the use of backgrounds for some pages – such as when Pangolin is licking the Milky Way, while leaving the characters on white pages when showcasing other superpowers.
Gift this book to any child who needs boosting in confidence in their own superpowers, talk to a class of children about their own strengths, and definitely, definitely, tie a tea-towel around your neck and help a friend today.
Reviewed by Madeleine Crofts