Laura Bunting (text) and Nicky Johnston (illustrator), Coco: Big City Kitty, Scholastic, June 2020, 48 pp., RRP $17.99 (hbk), ISBN 9781743834602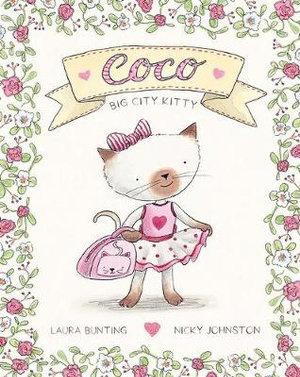 Coco loves living in her small apartment in the top of a tall building in a big city. She also loves dancing, the colour pink, writing lists and making things. She does not like bugs. Coco is happy with her life in the city and every day she plans city adventures with her mother –sipping kittyccinos, strolling through art galleries and window shopping. But one day her parents tell her (a little too excitedly) that they are moving to the country. Coco doesn't want to go, after all the countryside is full of bugs. But maybe, just maybe, things will be okay.
Coco: Big City Kitty is a whimsical book. The pairing of sweet watercolour illustrations with fanciful ideas of Coco's city life is perhaps a stronger focus than the storyline. It is a book that I can imagine bringing joy to children and adults, simply because it is so delightful – perfect for a snuggly reading time.  
It is a longer read than picture books for younger children, yet unfortunately the small font size means it's not quite suitable for young readers to tackle independently. Still, it is a lovely book to read aloud, and reading it to my daughter, I was reminded little of the Olivia books as well as the Ruby Red Shoes series, which are similarly fanciful.
Recommended for children from 4 – 8.
Reviewed by Rebecca Blakeney