Helen Brown (text), Phoebe Morris (illustrator), Cleo and Rob, Allen and Unwin, October 2019, 32 pp., RRP $17.99 (pbk), ISBN 9781988547190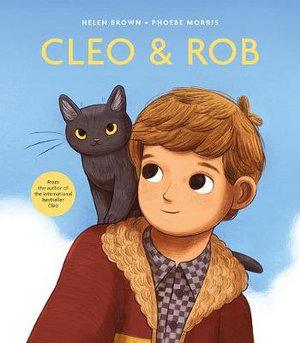 Author Helen Brown originally wrote the international bestseller, Cleo: How a Small Black Cat Healed a Family, based on true, traumatic events. Now in picture book form, Brown and illustrator Phoebe Morris come together to touch hearts all over again with their highly emotive yet warm and endearing book, Cleo and Rob.
Sam; a young boy filled with kindness and compassion – a huge lover of animals – is tragically killed by a car days after choosing Cleo the kitten to be his birthday present. Through the painstaking grief of this loss of their son and big brother, the little black ball of fluff brings light, and laughter, into the lives of the mourning family.
Following Sam's death, Sam's younger brother, Rob, adopts Cleo as his own. The pair bond with the commonality of longing for their siblings. Soon they are inseparable, and Rob's courage and confidence returns, enough to strike up a new, long-lasting friendship. Brown tells this story in a delicate way that touches our every sense in a situation so traumatic. We see a community showing their support with flowers, regular visits and hugs, we understand fears of nightmares and facing school alone, and sorrow even in their dog's behaviour. Brown shows her audience this very real reality. Morris plays her role superbly with richly textured illustrations that capture each emotion with the use of light and shade, and at the same time remaining amiable and tender, which is of great comfort to the readers.
Cleo and Rob is a story of the power of love, hope, redemption and healing when grief seems overwhelming. It provides a wonderful support to children in similar circumstances, and an anchor to discussions about finding contentment with soulmates – our pets and through friendships.
Recommended for children from age four.
Reviewed by Romi Sharp