Banjo Patterson (text) and Andrew McLean (illustrator), Clancy of the Overflow, Scholastic, July 2021, 32 pp, RRP $24.99 (hbk), ISBN 9781760669232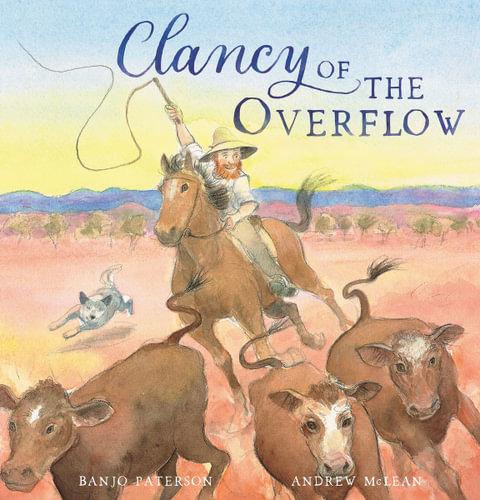 As the stock are slowly stringing, Clancy rides behind them singing,
For the drover's life has pleasures that the townsfolk never know.
Banjo Patterson's historic poem invites readers, both young and old, to step into a world long ago, the drover's world as depicted through wild erratic fancy visions of Clancy. The iconic stanzas of the poem are bought to life in this new edition picture book with stunning contrasting scenes of the Australian landscape from the city of hurry people to the Queensland country where Clancy has gone 'adroving.
Once in the bush droving with Clancy, there are flocks of bush hath friends to meet along the way, sunlit plains to explore and a night of camping under the everlasting stars. McLean's artwork is beautifully woven throughout the text and provides for poignant pauses in the read aloud of the story. The endpapers are equally beautiful and depict all the shades of the sunburnt Australian landscape and end with a star-speckled bush campsite.
Clancy of the Overflow is a stunningly illustrated classic that is bound to be enjoyed by a new generation of young readers. The text also provides for a joyous introduction to the structure of poetry and would be a great tool for both literacy and historical lessons for upper primary aged students.
Reviewed by Lana Spasevski