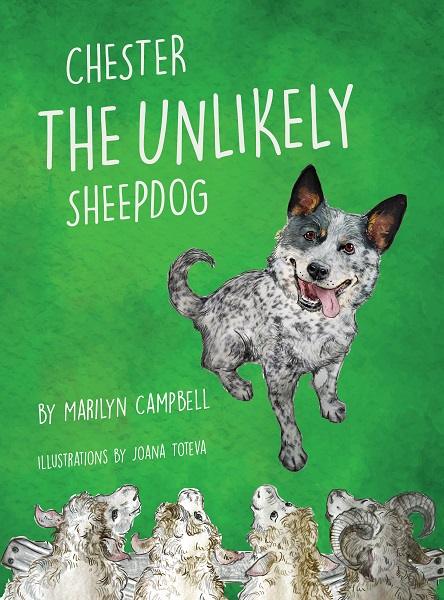 Marilyn Campbell (text),  Joana Toteva (illus.), Chester the Unlikely Sheepdog: A Bush Verse Picture Book for Children, Spindrift Publishing, Nov 2017, 28pp.,  $20.00 (pbk),  ISBN: 9780980749250
Chester the Unlikely Sheepdog, is the story of a lively little sheepdog who lives on Grumblebum Sheep Station alongside his farmer-owners and the other working dogs. Told in traditional Australian bush verse by award winning author Marilyn Campbell, the sixteen-verse narrative tells the timeless tale of courage through adversity in an unmistakably Australian voice.
Life on Grumblebum Sheep Station is far from easy for the working dogs and as the name of the farm suggests there are plenty of unhappy moments and scoldings for the mischievous little Chester.  Born the runt of the litter and his 'usefulness' in question from the beginning, Chester's exuberant puppy ways are always landing him right in the thick of any trouble.
'Poor Chester always got the blame no matter what went wrong.

The flies and mozzies all seemed better fed.

Harry's life was really full, his mob of sheep were in the wool,

The dogs were working hard as his shearers in the shed.

And then along came Chester, jumping in the air!

Sliding 'cross the shearing board, the wool was everywhere!

''Who in blazes let him out?!'' Harry blamed the broomie.

''They broke the mould when he was born, the dog's a flamin' looney!''
Eventually after all the struggles and mistakes Chester's kind heart and quick-thinking qualities save the day for one sheep mother and her lamb, meaning little Chester is finally afforded the respect and admiration he deserves. 
Joana Toteva's whimsical, full-colour illustrations of Chester's adventures portray the pup's unshakeable spirit and enthusiasm for life throughout the story which is bound to resonate with young readers. She captures a young dog's expression of innocent joy perfectly and her illustrated features bring a lightness to the somber backdrops she and the author create of a harsh, farm-working life.
Suitable for primary aged children, this title could be used in class with a clear focus on traditional bush and the rhyme, rhythm and figurative language found within poetic narrative storytelling.
Sharing this story aloud, would emphasise Campbell's vivid and humorous grasp of language, and allow young readers to better understand and celebrate the entertaining nature and enduring tradition of Australian Bush Verse.
Reviewed by Lisa Hoad