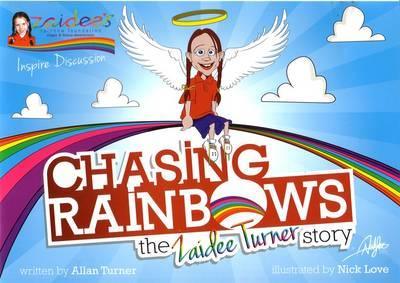 Allan Turner (text), Nick Love (illus), Chasing Rainbows: the Zaidee Turner story, The Rainbow Foundation, 1 Nov 2015, 26pp., $12.95 (pbk), ISBN 9781944242589 
Chasing Rainbows is Zaidee's story written by her dad, Allan Turner with brightly coloured cartoon style illustrations created by Nick Love.
In 2004 Zaidee Turner suddenly died at 7 years of age, due to a burst blood vessel in her brain (a cerebral aneurism).  Zaidee's family made the decision to donate her organs and tissues at the Royal Children's Hospital in Melbourne and, as a result, a total of seven people had their lives improved or saved.  Her liver went to an 8 year old girl, a mother received both kidneys, 2 children received a cornea each, a baby received a heart valve and another baby received a heart patch.
Chasing Rainbows: the Zaidee Turner story outlines Zaidee's story, but also provides information about the importance of organ donation.  It is written in a way that will appeal to kids and inspire discussion in the classroom and within families.
Zaidee's parents, Kim and Allan Turner started the Rainbow Foundation to help raise awareness of the importance of organ and tissue donation. They have an excellent website and are very active in promoting this important cause.
I recommend this book to parents and teachers as a spark for discussion.  There is also a very good website for teachers that contains lesson plans, videos and links to the curriculum.
Reviewed by Wendy Fitzgerald