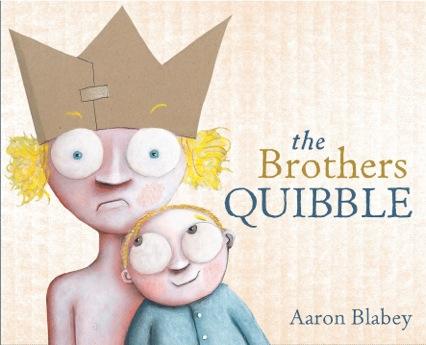 BLABEY, Aaron The Brothers Quibble Viking, 2014 unpaged $24.99 ISBN 9780670076000 SCIS 1644606
An only child for years, Spalding Quibble is undisputed king of the household as he lounges on the couch wearing a paper crown.  When he has to share his parents and home with a new baby brother he declares 'War!' He traumatises his family with so many unprovoked attacks that it seems like an unwinnable situation until baby Bunny learns to say his big brother's name.  Suddenly a miracle occurs as Spalding realises that despite his bullying his baby brother actually loves him.  At first it is a precarious peace that erupts into pranks and retaliations but finally humour emerges out of chaos.
The story is written in rhyming four line stanzas which are so cleverly unobtrusive in their layout that when leafing through the book this is not obvious.  Occasionally one line or word appears separately on a page with its own illustration where a change in font size is used for emphasis.  The illustrations have a cartoon-like quality which capture the mood and personality of each character particularly in their facial expressions and bulging eyes.  Double page spreads, half pages divided horizontally and vertically and contrasting use of colour on a variety of backgrounds provide atmosphere and unpredictability to this story.  The text and illustrations work beautifully to make this book a hilarious and fun experience with the subtle message of hope to all parents who have introduced a new sibling into the fold and, to all 'those who have had sharing thrust upon them', (in the dedication).  Aaron Blabey has captured the sentiments of sibling rivalry and jealousy to perfection.  Enjoyable, funny and thoroughly entertaining, It is suitable for every library and primary school classroom.
reviewed by Grace Nolan