Caitlin Murray, Beetle and Boo, Puffin Books,  February 2020, RRP $17.99 (hbk),  ISBN 9780143796565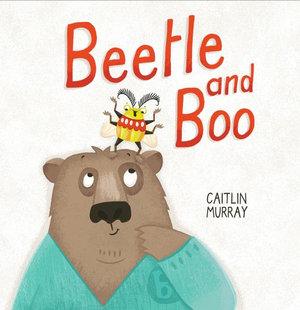 Beetle and Boo is a beautifully illustrated new picture book by Caitlin Murray. Suitable for children aged 3 years and beyond Beetle and Boo is a fresh take on the classic theme of childhood fears.  
'I'm not scared of anything,' said Beetle. 
'What about monsters?' asked Boo. 
'No,' said Beetle. 
'Are you scared of spiders?' said Boo. 
'Nope,' said Beetle. 
This cheeky story is a delightful depiction of a teasing but good-natured friendship between a great, big bear and a tiny, unbelievably confident beetle. At the beginning of the story, Beetle says she's not scared of anything, prompting the skeptical Boo to try and discover what Beetle is really afraid of.
Murray's text is simple and easily accessible for sharing with young readers, whilst her stunning illustrations conjure up a fascinating miniature world which will thrill and engage young readers.
As Boo continues to ask Beetle about the type of things he assumes she must be afraid of, Beetle delights in proving her friend wrong, and gives Boo a glimpse into a wonderous insect existence full of exciting parties, games and activities. Where Boo sees potential for fear, Beetle sees adventure and an opportunity for play. There is however a very funny twist and our story ends with the two friends on a more equal footing, sharing a new understanding.
With themes surrounding childhood fear, unlikely friendships and getting to know one another, Beetle and Boo is the perfect picture book to share with early years children and offers some light-hearted fun and comfort when we consider and talk about common childhood fears. 
Reviewed by Lisa Mercer