Lesa Melynczuk (text) and Veronica Rooke (illustrator), Baba' s Chooks, Serenity Press, May 2021, 28 pp., RRP $36.95 (hbk), ISBN 9780645080766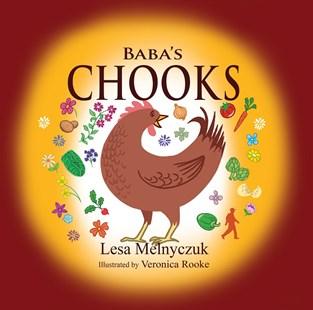 Baba's Chooks and the Magic Yellow Laying Box takes young readers into a horrible part of Ukraine's history but uses chooks to help explain what happened.
Lesa Melnyczuk is a Perth author, for whom this book is a personal story. Baba is her children's paternal grandmother, and the book's human character is Baba Helen, a lovable grandmother whose chickens are worried for her when she doesn't appear one day.
Hapka, Zirka, Alla and Tekla are worried – they haven't seen their owner Baba Helen since Wednesday. On Friday morning with no food or water, and therefore no eggs from them, Hapka calls a family meeting to see if anyone has seen Baba. But sadly, no one has.
The hens grow worried, remembering the time Baba tripped and fell when she forgot her glasses one day while collecting eggs. Baba was most upset, and the hens made the decision to only lay their eggs in the yellow box to make it easier for her to see them.
From there, the hens remember a time when intruders came to their village, taking people's food and even their pots and pans. This is a reference to The Holodomor, an event (a famine) that resulted in the deaths of up to millions of ethnic Ukrainians. Coupled with bright illustrations, and without shying away from showing soldiers in amongst the villagers, Melnyczuk manages to introduce young readers to an awful time in Ukraine's history and sharing with them what people endured during that time.
In the present, Baba Helen finally reappears, with a cane and the hens realise she had hurt only hurt her leg. The book ends on a positive note, with Baba Helen singing to her hens once again.
Baba's Chooks is lengthier than a normal picture book, but it, along with the hens' concern as a framing device, effectively helps young readers understand what happened in the Ukraine in 1932-33 – and highlights the hope and joy returned to Baba Helen and her chooks.
Reviewed by Verushka Byrow