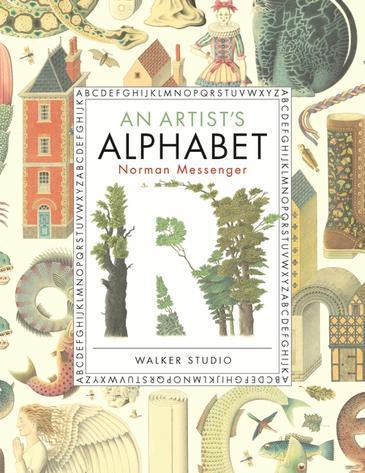 Norman Messenger, An Artist's Alphabet, Walker Books Australia,  1 Oct 2016,  48pp.,  $29.99 (hbk),  ISBN: 9781406346763
An Artist's Alphabet by Norman Messenger is not your traditional book of ABCs. The first page may fool you – acrobats on horses to make the letter A seems a standard way to start. That's where the traditional elements end. The remainder of the alphabet is an eclectic mix of natural and man-made wonders. Some real, some surreal. The question for the reader to ponder is, 'What is the connection to the letter?' An ideal discussion starter for conversations with children to explore relationships, emotions and interpretations of images.
The artwork itself is undoubtedly beautiful. Each page contains a capital and lower case letter in watercolour and pencil. Inspiration for the illustrations comes from various artists and objects. The Great Wave Off Kanagawa by Japanese ukiyo-e artist Hokusai, is re-imagined for the letter C. Other images evoke the style of botanical and natural history artist, Maria Sibylla Merian.
This is a challenging book to read. Not challenging as in difficult, but in that it implores us to reassess preconceived notions of what an alphabet book should be. We are challenged to think past the names of the illustrations and to instead make connections with concepts and ideas.
Miss Six enjoyed the natural elements but needed explanation to accompany the more anomalous images. More for the coffee table than toddler time, An Artist's Alphabet is a thought provoking and visually impressive book to delight art lovers of all ages.
Reviewed by Fiona Miller-Stevens