Stephen Michael King, Three, Scholastic Australia, November 2019, 32 pp., RRP $24.99 (hbk),  ISBN 9781760664053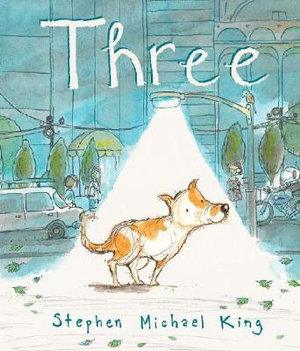 If you've read Mutt Dog you'll be familiar with the way Stephen Michael King can tug your heartstrings. In Three he gives us another stray dog who wanders the streets of the city until he finds himself in the country getting the love he needs and giving plenty of love in return. But rest assured this isn't just a riff on a winning formula. It's a rollicking read in its own right.  
Both the book and the namesake character are funny and bright, full of resilience, and a dash of irreverence. Three is so-called because he's missing a leg, and young readers will probably delight in his dog's-eye-view way of describing the other creatures he encounters (the two legs, four legs, six legs, no legs of the world) — because it's both cheeky and revealing. The illustrations fully immerse you in his adventure, zooming in on evocative details then panning out as he journeys through the city. You can't help but smile as you read — because all of the characters, right down to the bugs, ooze sunshine. 
This is a book about diversity and belonging, but there's not a sob story in sight. The characters are unique and strong, the story is lively and upbeat, and the illustrations are a whole lot of fun. Three may only have three legs, but he definitely deserves more stars.
Reviewed by Liz Patterson