Wenxuan Cao (text), and Yanling Gong (illustrator), The Wooden Fish, Starfish Bay Publishing, August 2019, 48 pp., RRP $24.99 (hbk), ISBN 9781760360641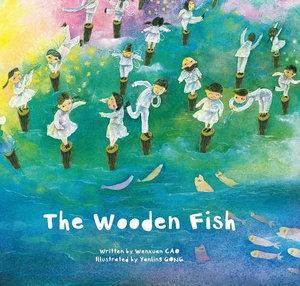 This is a picture book I will confidently highly recommend. The themes of loneliness, struggle and journey to life's purpose are beautifully represented in this personified lone post. With striking imagery and evocative illustrations, The Wooden Fish is a must have for both the classroom library and the bedroom bookshelf.
A solitary post, a remnant of an unfinished bridge, personified to mourn the loss of its life's purpose desperately yearns for companionship. The wooden post has no choice but to wait and wait for others like itself, a seemingly hopeless endeavour. When an egret uses the post for a resting station and a singing fisherman as a mooring pole for an overnight break, the wooden post dismisses its soiled and painfully scratched surface and revels in finally having a purpose and a friend. But the egret flies away and the fisherman sails on. It is a bored shepherd boy with poor aim and fierce determination to strike the post in target practice that brings longer lasting joy to the wooden post. His daily visits too, however, come to an end when the shepherd boy finally hits his target regularly. It takes a disaster for the wooden post to ultimately be released from its solitary confinement and find fulfillment.
I thoroughly enjoyed the idea of a bridge unfinished and a single post left behind awaiting something that will never come. The imagery in itself is poignant yet the post never loses hope that one day it will leave loneliness behind. The references to struggle throughout the story highlight the dichotomy of poignancy and hope, "the wooden post felt pain, yet it was full of happiness". The message that struggle and hope are both integral in gaining fulfillment is a thread beautifully woven throughout this story.
The pictures are in perfect harmony with the story, both dark and desolate and light and hopeful. They have a wavy, flowing quality and encompass whole double page spreads that suit the river scene beautifully. I particularly liked the final image of so many 'wooden fish' swimming down river.
It is no wonder that the author, Wenxuan Cao was the first Chinese author to receive the Hans Christian Andersen Award.
I highly recommend this book for readers aged 8-12, for their enjoyment and as a starting point to discuss interesting themes.
Reviewed by Katie Mineeff