Nick Bland, The Three Billy Goats Gruff, Scholastic Australia, March 2019, 24 pp., RRP $17.99 (hbk), ISBN 9781743815885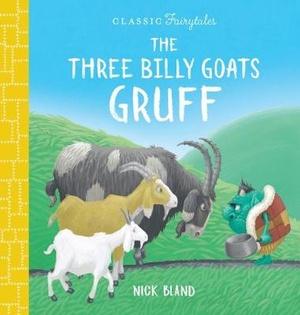 Most of the librarians and children's book sellers that I know regard anything by Nick Bland as an automatic buy. He's an Australian author with a book list that is both extensive and instantly recognisable to anyone who spends any time around children and picture books, from the Very Cranky Bear series to A Monster Wrote Me a Letter. The Three Billy Goats Gruff is a fabulous new entry on this list.
The cover is an excellent start, with the face-off between the Billy Goats Gruff and an adorably belligerent troll in beautifully appealing artwork. Distant scenery is a luscious wash of vague green, but the artwork focuses attention on the characters and the details close to the characters, and I laughed out loud at the troll's lair under the bridge with his saucepan, and his underwear drying on the washing line. Young readers are going to have a fun time with those delightful, telling touches.
The story of the Three Billy Goats Gruff is ideally suited to Nick Bland's art style and sense of humour. This is a great fairytale to tell out loud to young listeners, if you are willing to really get into the spirit and do the voices, and Bland has wisely kept to the classic story without over-embellishment. The illustrations add the unique dimension and a whole lot more humour. I adored the expressions on the faces of his characters, and for sensitive children, the ending has the troll merely dunked in the river and the Billy Goats stuffing themselves on delicious grass.
I am a sucker for fairytales and funny voices, and The Three Billy Goats Gruff is now my favourite Nick Bland book up against some pretty stiff competition. So warm up your little, Medium and BIG Billy Goat voices, and practise your troll stomping. Whether it's in the classroom, or tucked into bed, this is a fabulous, fun, read-aloud picture book that your kids (pun intended) are going to want to hear again and again.
Reviewed by Emily Clarke