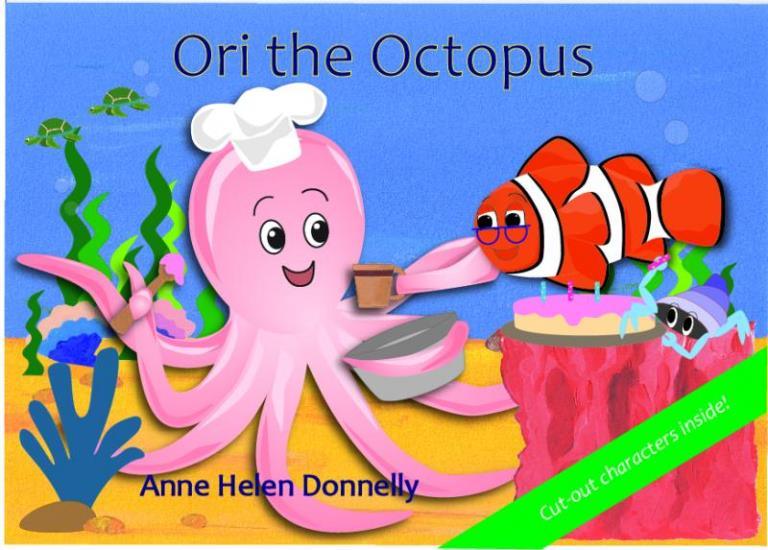 Anne Helen Donnelly,  Ori the Octopus,  Self-published,  29 March 2017, 40pp.,  $17.99 (pbk),  ISBN: 9780646962207
Ori the Octopus is the bright, engaging tale of Ori, his eight legs, and his desire to help his friends.
The book introduces young readers to Ori, and his friends – a starfish, a seahorse, a pufferfish, a clownfish and a stingray. I am loving how different these fish are, showing that friends come in all shapes and sizes, with the bonus of showing a variety of fish young readers might not usually see.
On a day when Ori is busy baking a cake for a friend's birthday, as any good octopus would, he finds his friends coming to him asking for help, like Harry the Seahorse who needs a babysitter and Cathy, the Clownfish who has brought over some tea to share with Ori.
Children will see Ori do his best to try to help everyone.  The book adds in some simple actions readers will find easy to mimic themselves.
But, Ori soon finds himself unable to do everything, which is when his friends rally around to help him finish baking Sally the Starfish's cake.
The story is a celebration of teamwork, of friends rallying around each other, and that is something every young reader needs to learn about.
The book also includes some helpful notes to teachers and parents about the characters and tips on how to talk about the characters' feelings with their children. In addition, there are cut-out characters that look like a whole lot of fun for readers who want to get creative.
Reviewed by Verushka Byrow