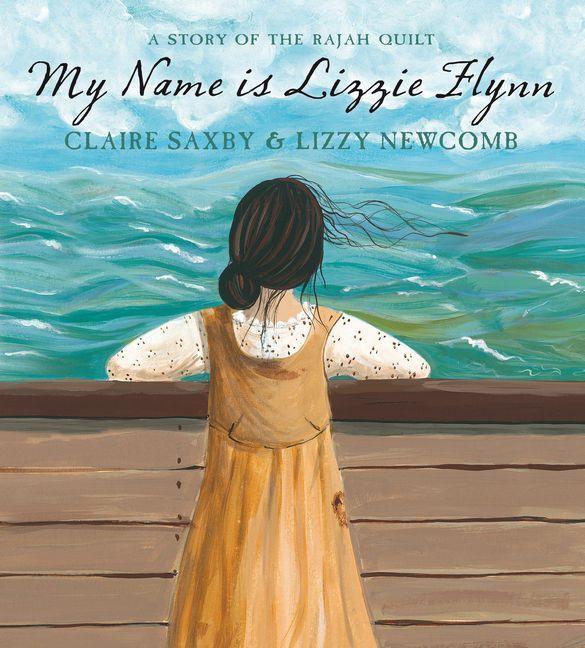 Claire Saxby (text),  Lizzy Newcomb (illus),  My Name is Lizzie Flynn: a story of the Rajah Quilt.  Black Dog Books,  1 June 2015,  32pp.,  $24.95 (hbk),  ISBN 9781922179913
What a delight it is to come across an Australian picture book that draws on an actual historical artifact from the National Gallery of Australia and uses it as a means of exploring one small aspect of the transportation of female convicts to Australia. The Rajah Quilt was pieced together by unknown convict women aboard the Rajah on its 1841 voyage from England to Van Diemen's Land. The story is told through the young eyes of Lizzie Flynn who is being transported for 7 years for stealing a shawl. It vividly depicts many aspects of the day to day life on such difficult journey, with extraordinary compassion and detail.
The artwork of Lizzy Newcombe beautifully captures the despair and horrors of the journey in the colours that she works with, the downtrodden expressions of the women and the amazing way she incorporates curves into her depictions of the women, capturing  the immediacy of their drooping postures and spirits, as they see themselves without hope. Once they arrive at land there is a subtle change, and although the depressed colours remain and are foregrounded,  the colours and shapes of  the landscape behind hint at the possibility of hope for something better.
This would be interesting reading 4-12 year olds and would be a wonderful addition to the school library to support teachers in their HISE programming.  Teacher Notes and Activities can be found on the Lamont Books website.
reviewed by Sue Clancy