Sophie Beer, Kindness Makes Us Strong, Little Hare, April 2019, 24 pp., RRP $16.99 (board book), ISBN 9781760504144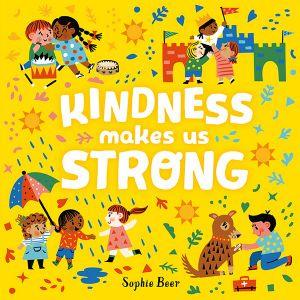 By the creator of Love Makes A Family, Kindness Makes Us Strong is a bright, cheerful, colourful and attractive board book. Each double page spread shows an example of being kind. Instances include "Kindness is taking turns" and "Kindness is playing with others".
The illustrations show a diverse range of ages, abilities and ethnic backgrounds including an elderly lady, a child in a wheelchair and different skin tones.
However, board books are usually produced for babies who have a tendency to eat or tear the pages of traditional books. The concept of kindness is too abstract for very young children to grasp and even the examples shown are for an older age group. There is also no explanation of how being kind makes a person or society strong so the message is a little lost.
In my opinion, this book would be much more successful as a standard picture book for preschoolers and the early years of school.
Reviewed by Lynne Babbage