Mario Ramos and Linda Burgess (translator), I am so Clever, Gecko Press, August 2019, 48pp., RRP $16.99 (pbk), ISBN 9781776572496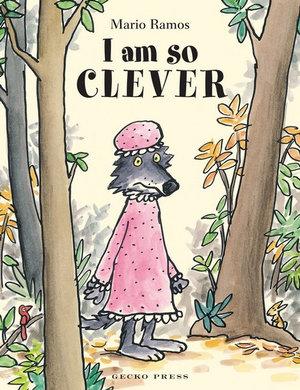 I am so Clever is an amusing retelling of the Little Red Riding Hood story written and illustrated by Mario Ramos. This is an English-language edition, originally written in French as Le Plus Malin in 2011. Mario Ramos was a well-known Belgian children's book author and this paperback edition is published posthumously. The text is translated by Linda Burgess.
Ramos creates a modern conversational dialogue between Red Riding Hood and the wolf. Burgess has translated this into English keeping the essence of the swanky overconfident bad wolf. An unbothered Red Riding Hood mostly ignores his "wolfsplaining" about how dangerous the forest is.
Despite the wolf's attempts to cleverly catch Red Riding Hood, it all begins to go a bit wrong. It becomes quite embarrassing for the wolf trying to maintain his wild reputation when he locks himself out of Grandma's dressed in her flowery nightdress. This book joins others in a series of other books by Ramos featuring the same wolf and his antics in I am so Strong and I am so Handsome.
Ramos' illustrative technique is characteristic with bold black outlines, and simple expressive scenes. The ending is left abruptly open so that children can wonder about what happens next, based on the closing illustration. I am so Clever is a picture book ideal for readers who are beginning to interpret texts and who can enjoy and understand the concept of an anti-fairy tale.
Reviewed by Angela Brown