Jackie French (text), Bruce Whatley (illustrator), Happy Birthday Wombat, HarperCollins Australia, April 2019, 32 pp., RRP $24.99 (hbk), ISBN 9781460751596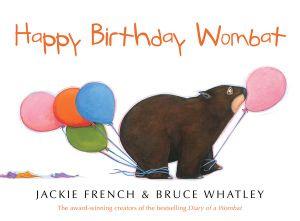 I was honoured, and slightly unnerved, when asked to review this new title from celebrated Australian author and literary legend, Jackie French. No pressure, right?
Told with the dry, laconic style we have come to know and love from our favourite wombat, Happy Birthday Wombat will delight readers of all ages. It's Mothball's birthday and, thanks to Bruce Whatley's wonderfully funny illustrations and Jackie's economical, but oh so effective narrative, readers can experience the special day through a wombat's eyes.
It's hard to top a classic but this highly acclaimed team has managed to do just that, relating a seemingly uneventful day for Mothball with attitude, humour and a few surprises. How Jackie French manages to say so much with so few words is astounding. Bruce Whatley's gorgeous illustrations add a rich depth to the story, with Mothball's expressive eyes offering glimpses of humanistic emotions. In fact, an alternate title could be Diary of a Teenager as adolescents – mine, at least – share so many of the wombat's traits: attitude, stubbornness, lethargy, messiness, occasional aggression :).
My family is blessed to have wombats at our property near the coast. They are clever, protective, determined, occasionally daring and often hilarious. Mothball's antics have changed how I relate to these and other resident creatures. That's the magic of children's books, and Jackie French – they broaden our perspective, reminding us what it is to be human. And that includes sharing our gardens with other living things.
Reviewed by Maura Pierlot