Vikki Conley (text), and Penelope Pratley (illustrator), Ella and Mrs Gooseberry, EK Books, August 2019, 32 pp., RRP $24.99 (hbk), ISBN 9781925335255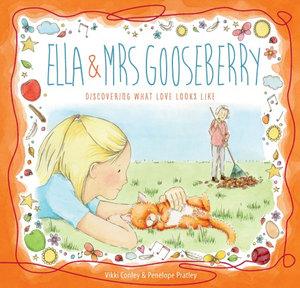 Ella and Mrs Gooseberry is one of those books you will treasure, a tale of looking out for people around us. It is a story about kindness and generosity of spirit. Something we could all use a little more of, I'd say.
Ella lives with her mum, and her neighbour, Mrs Gooseberry, is a seemingly grumpy lady. When Ella's mother tells her that Mrs Gooseberry "lost her love" and this is why she is sad, it leads Ella on a search for just how someone can lose their love and what exactly love is. She asks her mother, her teacher, ballet teacher, grandmother; they all tell her what they think love feels like. Ella begins to wonder if lost love can be found again.
Whilst it is implied that Mrs Gooseberry's husband died, this book opens up the opportunity to discuss loss and grief with children. What does Mrs Gooseberry feel? How does she express it? She is grumpy sometimes, and this is why. What might help her feel better? We know now that children can grasp issues of death and loss, and books are a powerful tool to facilitate this discussion. Ella learns that love can be found again. For Mrs Gooseberry, love might just be something furry that meows. What will Ella do? How will Mrs Gooseberry feel?
For preschool and primary readers, Ella and Mrs Gooseberry is a charming tale with a powerful message of empathy and kindness. Perhaps we can all encourage our children to look around them for signs of someone feeling lonely.
Reviewed by Belinda Raposo