Rove McManus, Disgusting McGrossface, Scholastic Australia, September 2019, 24 pp., RRP $17.99 (hbk) ISBN 9781760665357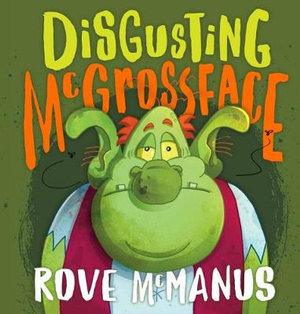 Disgusting McGrossface, is a new picture book written and illustrated by Australian actor, Rove McManus.
"Who brings in mud then licks his feet dry?
Disgusting McGrossface, he's your guy."
In an utterly gross yet creative bid to deflect the blame for some muddy footprints, our young protagonist describes a scapegoat like no other to his poor, disgruntled parents.
Disgusting McGrossface is the smelly, worm eating, ear wax sculpting creature behind the muddy foot prints and so many repulsive, untidy things that happen around the house. Which will all make perfect sense to parents and children alike because as we all know… it's never the little person's fault!
With hilariously vile descriptions and bold illustrations, young readers will laugh out loud at this enjoyable read. The clear, full colour pages and rhyming text make this a great book to read aloud and older children will appreciate the fun just as much as the little ones do. My own children found this title highly entertaining and it's now in regular rotation at bedtime.
In addition to having the giggle factor, this text could so easily be used as inspiration for some fantastic creative writing. Young writers could recreate a version of Disgusting McGrossface's top secret plan page, or the story itself might encourage children to dream up yet more terrible household deeds and a newly conceived, despicable creature behind them.
Reviewed by Lisa Hoad