Eek! Book Week is NEXT WEEK! Here's some costume ideas from picture books that fit this year's Australiana theme. By Reading Time reviewer Carissa Mason
Until I heard this year's Book Week theme: "Australia! Story Country", I confess I hadn't paid very much attention to whether or not the books we read were Australian. One of our shelves at home is dedicated to Australian picture books, but at the library we just picked up the ones we liked the look of (absolutely judging them by their covers) or stories that were recommended by friends or online.  So when I stated brainstorming Book Week costumes with my kids, it was fantastic to find so many of the books my kids love are written or illustrated by Australians. So, if you haven't got your Book Week costume ready yet, here are some specifically Aussie suggestions, because eek – it's next week! (PS They're simply listed as they sprang to mind – I'd love if you added more suggestions in the comments below.)
A Gumnut Baby
May Gibbs' Snugglepot and Cuddlepie gumnut babies, as well as her blossom babies, are Australian icons. Did you know Australians used to send postcards of Gibbs' illustrations to soldiers during World War I? A friend of mine is making an actual gumnut dress for her little girl, which I can't wait to see, or you could try a yellow or pink skirt with a t-shirt and a green beanie for the gumnut hat.
An Australian Flower Fairy
Jan Wade has created a host of beautiful fairies in her Australian Flower Fairies book, with each fairy inspired by an Australian flower, including our national emblem, wattle. There's also fairies for waratah (NSW) and the Cooktown Orchid (QLD). Just pop on something girly with a set of fairy wings.
A koala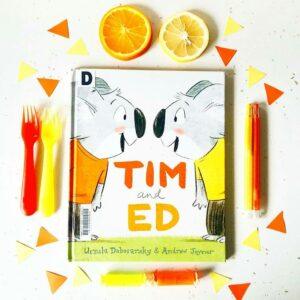 There's a few to choose from – if your child has red overalls or shorts, go with Blinky Bill, created by Dorothy Wall. Or if you've got a smart waistcoat or suit jacket you bought your boy for a special occasion, pair it with a red ribbon bowtie and some funky pants and he could be Bunyip Bluegum the koala from The Magic Pudding, by Norman Lindsay. (If you're really creative you could make a Magic Pudding costume, but I don't have any suggestions for how to do that one!). Twins may like to go as the twin koalas in Tim and Ed, by Ursula Dubosarsky, illustrated by Andy Joyner (who's also a twin). One koala wears an orange t-shirt, while the other is in yellow.
A possum
Given that Mem Fox's Possum Magic (illustrated by Julie Vivas) is Australia's best-selling children's book of all time, Hush the Possum would be a great choice, with a handmade mask and tail. There's also a possum in Blossum Possum by Gina Newton, illustrated by Kilmeny Niland.
The green sheep
The sleepy sheep from Where Is The Green Sheep (by Mem Fox, illustrated by Judy Hoacek) would be a cute costume. Find green clothes and add a sheep mask and little tail.
An emu
We've got an emu on our coat of arms, so what about Edward the Emu or Edwina the Emu from the books with the same names (by Shona Knowles, illustrated by Rod Clement)? Edwina looks for a job as a ballerina and a waitress, so you could add those elements to a costume too.
A very cranky bear, or a sheep
I'd love to see someone dressed as the bear from Nick Bland's The Very Cranky Bear after the animals have added their own "flair" to his outfit with zebra stripes, a lion's mane and moose antlers. I expect it would take some creativity, but would be well worth it. The sheep would also make a sweet costume with a leotard and woolly skirt to show her after she shaves half her wool to make the bear a pillow. While sheep may not be native to Australia, we've got about 74 million of them, so I think it fits the theme! Nick Bland has some other great characters too, like King Pig (pig ears, a crown and a cape) and the bear with a musical instrument from The Very Noisy Bear.
Mary Poppins
Did you know Mary Poppins was written by an Aussie? Author Helen Lyndon Travers was born in Maryborough in Queensland and wrote the story under her pen name PL Travers after emigrating to Britain. My daughter dressed as Mary Poppins last year, with a homemade cardboard hat covered in felt, daisies and fake cherries and we made a bird head out of paper mache for her umbrella.
Cindy-Ella
If you've got a denim skirt and a pair of thongs, you've got the outfit Cindy-Ella wears to the ball in Cindy-Ella An Aussie Cinderella, written by Tom Champion, illustrated by Glen Singleton.
Just a hat
If your child is really not keen on dressing up, they could just wear a hat. There's plenty to choose from in I Got This Hat, written by Jol and Kate Temple and illustrated by Jon Foye, who all live in the same Sydney suburb. There's a racing car driver, a pirate and a pilot, a miner and a deep-sea diver.
Jonathan
Jonathan loves dressing up as a lion, a crocodile and a bear, so any of these would be fun costumes and they're supposed to look handmade too. Jonathan is written by Peter Carnavas, illustrated by Amanda Francey.
A kid with a lunchbox
If you're really pressed for time, just give your child a lunchbox to hold and they can be the boy from What's In My Lunchbox? by Peter Carnavas, illustrated by Kat Chadwick.
A kid with a pile of books
Or they could carry a stack of books, and be the girl or boy from another lovely read written and illustrated by Peter Carnavas, The Children Who Loved Books.
A bird
Feeding seagulls or fending them off while bayside or at the beach is a great Aussie pastime, so make a mask and tie on a red kerchief and go as Chip from the book with the same title by Kylie Howarth. Or make a cockatoo mask and go as the cockatoo in The Cocky Who Cried Dingo by Yvonne Morrison, illustrated by Heath McKenzie. It's an Aussie take on The Boy Who Cried Wolf. For an Indigenous costume, author and illustrator Greg Dreise has just published gorgeous stories The Magpie and Silly Birds, featuring lots of Aussie birds. Or for a more elaborate bird, start with a grey outfit and get your youngster to craft a fabulous headpiece like the young bird in Feathers for Phoebe by Rod Clement.
A rabbit
Pop on a set of bunny ears left over from Easter and a pair of red shoes and you've got the sweet Ruby Red Shoes, created by Brisbane's Kate Knapp.

A fairy ballerina
Does your little girl love fairies and ballerinas? She can go as both. The Fairy Dancers is written by Brisbane author Natalie Jane Prior, beautifully illustrated by Sydney's Cheryl Orsini. It's about three girls enjoying their weekly ballet lesson, with a bit of magic thrown in.
A monkey
There's the sweet youngster in Cheeky Monkey by Andrew Daddo, illustrated by Emma Quay, who wears overalls. Or an older child may prefer to be the monkey from the bold and graphic All Monkeys Love Bananas by Sean E Avery.
A dog
If your child loves dogs, you could draw inspiration from Pig the Pug by Aaron Blabey or My Perfect Pup, by Sue Walker, illustrated by Anil Tortop.
A unicorn
Make a horn or buy one attached to a headband and be Thelma the Unicorn, by Aaron Blabey.
A lamington or the lamington man
Lamingtons are sooooo Australian – paint a box black with white coconut sprinkles and add some shoulder straps to make the lamington from Possum Magic, or sew/paint coconut onto a black tracksuit and go as The Lamington Man, the Aussie take on The Gingerbread Man, by Kel Richards, illustrated by Glen Singleton.
A red-headed lad
If your boy has red locks, or you've got a wig, he could wear his PJs and be Oliver, the boy who wakes up cranky, from Oliver's Grumbles by Yvonne Mes, illustrated by Guiseppe Poli.
Hijabi Girl
Girls who wear hijabs can make them part of their costume by going as the girl in the new book written especially for Book Week, Hijabi Girl by Hazel Edwards and Ozge Alkan, illustrated by Serena Geddes.
And if your children don't like any of your (or my) suggestions, tell them they had better pick one or they will have to go as one of the kids from Emma Quay's beautiful bath-time story Rudie Nudie!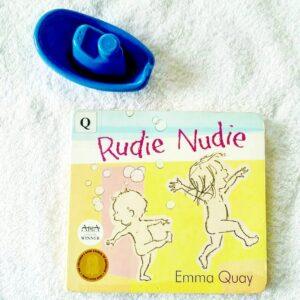 Children's Book Week is led by The Children's Book Council of Australia each year to bring together children and books and to celebrate Australian Children's Literature.
Follow Carissa on Instagram (@books_kids_love) for more gorgeous pictures and great ideas for reading (not just Book Week costumes).