Carolyn Eldridge-Alfonzetti (text) and Teresa Lawrence (illustrator), Around the Globe with Gramps, Celapene Press, November 2018, 60 pp., RRP $14.95 (pbk), ISBN 9781925572155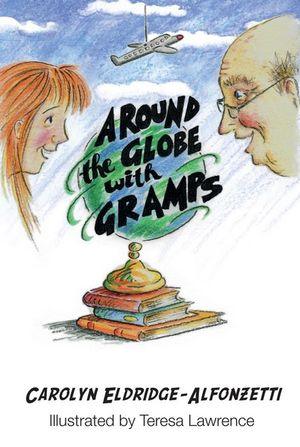 There are many examples of memorable grandparent characters in children's literature, but there are few as realistic and engaging as the loveable grandfather in Around the Globe with Gramps.
Gramps has invested a great deal of time, energy and love into his active relationship with granddaughter Lucy. Fridays have been their special day. An ex-geography teacher, Gramps fills their time with learning activities based on places around the world. Craft, research, cooking, dress-ups: this energetic grandfather is up for all of it.
The story begins with Gramps in one of his ridiculous, improvised national "costumes"—complete with tennis skirt and red pompoms on his slippers. It is Greek day. The reader is immediately teased: is this just a mad old man or is there something more interesting going on?
Lucy has been an enthusiastic participant in Gramps' geography games, until now. Going into high school, she is beginning to worry about what is "cool" and what other people might think. Peer pressure in the form of friend Briony complicates Lucy's life.
Briony's grandmother is a complete opposite to Gramps. Her TV-dominated house, hands-off approach to child-care and nutritionally empty, sugary, store-bought food is contrasted to the chaotic wholesome fun of Gramps' house.
The language used by accomplished poet Carolyn Eldridge-Alfonzetti is elegant yet fun, using poetic devices in un-rhymed free verse to engage the young reader with humour and rhythm. The use of verse is an inspired idea, allowing lots of white space around the text, which, combined with the detailed, realistic line drawings by Teresa Lawrence, make the book user-friendly for young readers transitioning to chapter books. Extensive teacher notes are provided on the Celapene website, including information about poetry and examples from the text.
This book is a valuable addition to the toolkit of primary school teachers everywhere, as well as a refreshing take of child-grandparent relationships and the problems of growing up and growing old. Highly recommended.
Reviewed by Julie Thorndyke