Leila Rudge, Winston and the Indoor Cat, Walker Books Australia, September 2021, 32 pp., RRP $25.99 (hbk), ISBN 9781760652609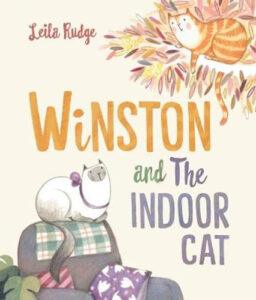 Winston and the Indoor Cat is a picture book steeped in thoughtfully designed illustration and charming characterisation. Leila Rudge has a strong background in illustration, having previously illustrated over 10 picture books. Winston and the Indoor Cat is both written and illustrated by Leila, and its Shortlisting in this years' Awards follows the success of Gary, an Honour book in the 2017 CBCA Awards. Friendship and individuality are explored in this gently-told story of two very different cats. Winston, The Outdoor Cat, tries to draw The Indoor Cat outside, while the indoor cat, who is comfortable with its leisurely indoor life, invites Winston into its world inside the house.
Characters drive the narrative and are developed through the subtle expressions of the cats who venture outside their normal environments, respectively. With short sentences and concise phrases, young children will delight in listening to the words while being captivated by the illustrations, which are rendered in coloured pencil using a technique that many children will readily identify in their own pencil drawings.
These beautiful, soft, watercolour and pencil illustrations vary from full-page spreads to small vignettes and the final sequence where the cats agree to disagree and find common ground is a satisfying and humorous resolution.
Each page has been carefully and lovingly thought out with contrasting colour schemes of warm pinks, oranges, reds, and browns, for 'the outside', and cool blues, purples, greys and pinks for 'the inside'. This technique creates contrasting moods of roughness and changeable weather outside and serenity and stillness within.
As the owner of a dog who enjoys her inside and outside time in equal measure (and regularly leads me and follows me inside and out), I appreciate an imaginary world where animals have a childlike curiousity about what is just beyond their known horizon, combined and a willingness to get outside their comfort zone and make new friends.
Review by Kate Burbeck (CBCA Early Childhood judge 2022)