Claire Zorn, When We Are Invisible, University of Queensland Press, March 2021, 320 pp., RRP $19.99 (pbk), ISBN 9780702263132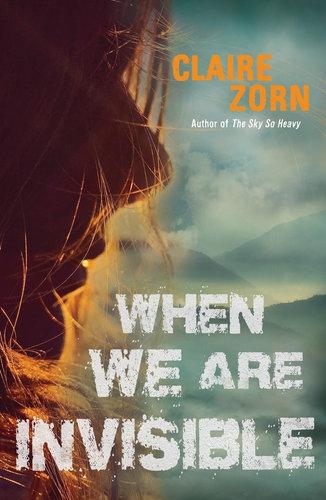 When We Are Invisible is the sequel to Zorn's award-winning novel The Sky So Heavy. The book tells of Lucy, Fin and Max's continuing efforts to survive in a post-nuclear landscape. Set in New South Wales, Australia the group finally find their way to the encampment described by Lucy and Fin's teacher, Mr Effrez. But is it the place of sanctuary and safety they have been longing for?
I haven't read The Sky So Heavy and was pleased to discover that When We Are Invisible stands alone. There is enough background detail skillfully woven throughout the text to understand what the characters have experienced and how that has shaped who they are.
The story is told from Lucy's perspective, and her backstory is harrowing enough without the experience of a nuclear holocaust. Lucy's sister Bit (Penelope) was raped by her high school boyfriend, a charming and beguiling character. As a consequence of the rape, Bit develops an eating disorder that turns the entire family's life upside down, including a life-changing move from their farm to the city to be closer to the hospital. Lucy is forced to grow up and become emotionally independent because her parent's focus is centred on Bit and her recovery. These experiences heavily colour Lucy's interactions and reactions navigating life in the post-apocalyptic world.
A very strong theme throughout the book is gender inequality and the experience of violence against women. In particular, the insidious and ever-present exertion of male power in women's lives. I understand the importance of addressing such themes; of highlighting women's shared experience in order to perhaps bring about change through consciousness-raising. However, the theme is almost like a bruise that Zorn cannot help but press to check whether it still hurts. I began to find the constant references overwhelming. At times it seemed as though all Lucy was focused on was her experience of being female, weak, and less (such focus can be common amongst trauma survivors). Like Lucy, I found it hard to focus on the other themes in the book such as compassion, faith, and trust because I was so focused on Lucy's experience of gender inequality. However, I can imagine my 16-year-old self finding this a very empowering and enlightening read. I genuinely hope that When We Are Invisible sparks conversations and change.
There are comprehensive Teacher's Notes for this title available through the UQP website.
I would recommend When We Are Invisible to mature readers aged 14+ years.
Reviewed by Anne Varnes