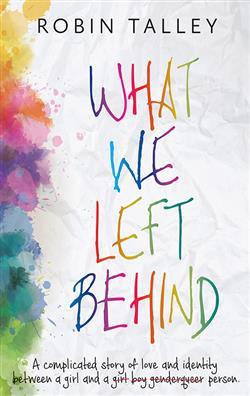 Robin Talley, What We Left Behind,  Harlequin Teen,  November 2015,  416pp., $19.99 (pbk),  ISBN: 9781743694275
What We Left Behind is a young adult novel about a queer couple heading off to their first year at college; Toni is going to Boston, while Gretchen is going to New York. The novel covers their long distance relationship, negotiating University life, finding new friends, and dealing with family back home. The main focus of the book is T's gender identity, which shifts over the course of the novel from somebody who refuses to use pronouns and feels uncomfortable being read as a girl, to someone who uses male pronouns, wears a chest binder to flatten their chest and plans to take testosterone in the future. Much of the novel is about T's anxiety about their gender identity and the different ways they explore thinking about and living their gender (I will use "T" and "they" in this review as the most respectful way of representing the character's shifting identity.)
The book is marketed as being about a genderqueer character, so it is a little disappointing that the main character doesn't ultimately identify as genderqueer. However, the book contains much useful information about different facets of gender identity and sexual orientation, so a young reader looking for a genderqueer character will still find much to interest them. The fact that a mainstream publishing house such as Harlequin Teen has published a book about a trans teen with the word "genderqueer" on the cover (albeit crossed out) bodes well for the industry becoming ready to publish about genderqueer teens in the near future.
My main criticism of What We Left Behind is that at times it reads like a gender studies text book. For instance, one of the characters says "Labels matter more than they probably should. If someone told me they were gender variant all I'd know is that they defined themselves somewhere outside the traditional boundaries. I wouldn't have any set expectations for their gender identity or expression" (325). Talley obviously wishes to educate her young audience about gender, however, the complex material isn't suited to being woven into a fictional text. Perhaps a glossary or a short informative essay and further reading suggestions at the back of the book would have been a better vehicle for this information.
The book is told through alternately from T and Gretchen's point of view, and is mostly readable and engaging. The focus on romance and the transition to college will appeal to young readers who are looking for a good story. It also has much to offer young readers looking for more information about non-normative genders and sexualities. What We Left Behind would be an attractive addition to a collection which already has books such as Kate Bornstein and S. Bear Bergman's Gender Outlaws: The Next Generation collection, Ivan Coyote's One in Every Crowd and Susan Kuklin's Beyond Magenta: Transgender Teens Speak Out, as well as other fiction about trans teens. Queer books can be lifelines for teens discovering their own gender and sexuality, so it's vital that authors, publishers, teachers and librarians provide such books.
Reviewed by Lian Beveridge